Archive for the 'Travel' Category
Once upon a time, Mark decided to take his son, Arthur, his nephew, Terry, his good friend, Jack, and me, to Canada to go fishing. The location Mark chose was Kasba Lake in northern Canada.  For months prior to our August 1 departure, new fishing lures arrived in the mail to my house about every third day.  When it came time to pack, Mark realized, "We have more lures than we can possibly use in eight days.  And if we took them all, they'd weigh more than the 50 pound limit we can have for luggage."  Packing was a lot of fun.  I think we weighed our bags four times.
To get to Kasba Lake one must either first fly or drive to Winnipeg.  Since Mark and I had spent a small fortune on fishing lures, some of which remained home, we opted to drive.  Lucky for us, Jack had spent his money on a brand new Chevy Traverse, so Mark, Arthur and I loaded up in that and drove and drove and drove to Winnepeg.  There, we met Mark's nephew, Terry, and hopped onto an airplane that took us further north.
The plane looked something like this.
We took some small plastic bottles with us to take the edge off.
Two hours later, we arrived at Kasba Lake Lodge.
At the lodge we were fed a yummy breakfast.  Note the fine accommodations.
Afterwards, we helped load up the float plane.  Luggage went into the floats and into the back of the cabin.
This is a view out the window of the float plane.  There seemed to be more water than land.
The pilot, Larry, told us the airplane had a great engine that would allow the plane to continue flying even if something went wrong.  How ominous.
While Jack sat in the co-pilot seat, Terry, Mark and I sat in a middle row seat, and Arthur sat in the back with the luggage.
About twenty minutes after we took off, we landed on the water and tied up to a dock in front of our outpost cabin, which was our home for 8 days.  It's on Tabane Lake.
The cabin was made of plywood, with a screened-in porch decorated with a lot of duct tape.  Duct tape held the glass onto the front door, duct tape held the bits of screen together where a bear had punched it in a year earlier, and you can see duct tape on the ceiling in the photo, below.  The cabin consisted of one main room with 4 bunk beds, a stove, fridge and sink.
The bathroom was a tiny affair.  The shower dripped the entire time and the one side was so flimsy it could probably be pushed down by a hoard of black flies.  But, as Mark said, at least we had indoor plumbing–on a previous trip, we had an outhouse.
Food and beer had been left in coolers and in the fridge.  We soon learned that in Canada, a case of beer is only 15 beers, whereas a "flat" of beer is 24.  We had to order more beer via satellite phone with Larry mid-week because of our wee misunderstanding (as in, "Bring in a flat, Larry!").  Indeed, Larry flew in mid-week with beer, dish soap and other essentials, not including mustard, which Jack watered down so as to last longer. We were the last group to use the cabin for the season.
Our meals consisted of burgers on the grill, steak, and fresh lake trout, amongst other tasty food, compliments mostly of Chef Jack, with help from Arthur.  I must say that the Arthur-Jack rub on the steaks–consisting of Tang, coffee grounds, orange peels, and Mesquite rub–was simply amazing.
I soon discovered that some men snore at an amazing volume, and with the drippy shower as accompaniment, it was a bit too much for me.  I slept on the porch most nights.  The citronella candles mostly kept the mosquitoes at bay, adding their own symphony to the air.  The lovely cotton liner provided to line the sleeping bags actually stayed in place the first night.  After that, not so much.
Our eight day stay consisted mostly of fishing, of course.  Arthur hadn't caught too many fish in his life, so we were all excited when he caught his first lake trout…puny little thing that it was.
And when Terry caught his first northern pike ever, it was cause for celebration.  But not as great a cause as when his second-ever pike was 41 inches.  Of course, Mark would later beat this fish by two inches.
In addition to fishing in the lake, we also explored three streams, one of which had killer rapids that tried to flip Terry and Jack, another of which took most of the way to get to, and another of which was kinder and gentler.  Everyone caught at least one grayling, none of which cooperated for photos.
The first few days of fishing were warm enough for a nifty dip in the lake.
But mid-week, the temperatures dropped and the warmer clothes came out.
Between bouts of fishing, I fell for a few of the local critters, including this rabbit, which may or may not be an arctic hare.
The rabbit did something I'd never seen before:  it took off swimming across the lake.  I held my breath the entire time it was swimming, knowing that a big pike wouldn't hesitate to eat a rabbit.  Luckily, it circled back and returned to land about 500 feet from the lodge.  We still have no idea what it was doing.
I also fell for the resident jays.  They showed up the first evening and searched around the hull of our boats.  It didn't take them long to find some trail mix that had accidentally fallen over in the bow.
I quickly discovered that the jays loved the nuts in the trail mix, but not the raisins or M&Ms.  That worked out great for me, because the raisins and M&Ms were my favorite.  So, I shared the rest of my trail mix with the birds.  I put some on the boat…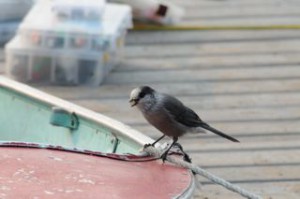 …and I put some on a burning barrel.  Jack took up the sport, sharing his walnuts and peanuts by making small piles on the ground.
Other birds we saw included a boreal chickadee, a redpoll, common loons, an arctic loon, eagles, gulls, arctic terns, three birds I will have to get identified by my Alma College birding pal, and this shorebird.
I also took time to shoot the smaller things…
…including the lichen and other macro-life.
And let's not forget the fresh blueberries!
Of course, bears like berries. And we did see some bear tracks on another island.
In the arctic, the sun doesn't set in August until around 11 p.m.  Most nights, it was worth staying up for the sunset.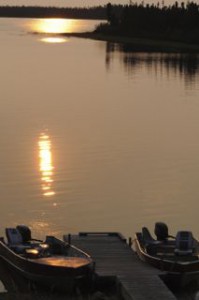 And sometimes, there were still things to do.
The week went by in the blink of an eye.  The fishing was fast and furious, especially for pike.  The overall size of all three species of fish–lake trout, pike and grayling–was smaller than Nueltin Lake and smaller than at the main lodge, where, at Kasba Lake itself, one lucky guy got a 36-pound lake trout.
But the numbers of fish kept things interesting all week.  As did the weather.
And Mark caught enough fish to get boo-boos on his fingers.  Poor fella.
On our last evening at the outpost cabin, the men smoked cigars, and we all tried to finish off the rest of the expensive beer we'd paid for.  That meant four beers per person.  Burp.
The next morning at 7, Larry flew in to pick us up in his plane and take us home.  It was rainy and the plane's engine wasn't as loud as when we took off from the lodge, making me a bit worried.  My worry gene was correct, and if you go to my FB page, you'll see the hairy video flight back to Kasba Lake Lodge, where a cylinder blew on the plane.  Aaaahhhh!
Larry keeps a sign on the cockpit of his plane that says that "Tipping the pilot helps him remember where he left you."  Upon landing safely with a blown cylinder, I gave Larry a nice tip!
After another great breakfast at the main lodge, we took the plane back to Winnepeg, which involved a stop-over at Lynn Lake to refuel.  At Winnipeg, we said good-bye to Terry, and Arthur, Mark, Jack and I headed to Jack's car for the loooong ride home.  This is a parting shot from Kasba Lake Lodge.  Thanks, guys, for the great time!
On day 8 I took the last of my aspirin with breakfast to try to reduce my puffy hands, elbows and feet.  Mark was also out of aspirin.  We weren't concerned, though, because we'd be in Manaus in a few hours and could get some more. If only that had turned out to be true.
We loaded our luggage into our guide's boat and rode a half hour to a wide stretch of river.  The float plane arrived shortly and we were soon loaded up and heading down the river.  
 I noticed that the pilot of our plane had braces and looked to be about 20, and then I noticed that he and the co-pilot were both pumping the main controls–the yoke–on the airplane up and down as we headed down the river.  It was as if they were trying to get air under the plane to help get us off the water.  Their efforts created waves, and for a moment we were rocking up and down as we accelerated down the river.  I watched as the yoke went up and down and the airplane bounced up and down and suddenly I felt my butt pucker when we ran out of straight river and the plane seemed to slide sideways as we went around a bend in the river.  My heart lurched in my chest as the pilot pulled up on the yoke . . . and took us over the trees and into the air.  Phew!
A half hour later, we landed on a narrow landing strip in the small, well, not exactly town, of Santa Maria. 
 Our camp host, Bibi, had told us that Curt, Bobby and the four French guys were booked on the first plane to Manaus, and Mark and I would be on the next plane to Manaus about an hour later.  We said good-bye to Curt and Bobby and followed two Brazilians down a two-track to an outdoor pavilion of sorts, attached to a couple of apartments.  On the way, we passed a group of black vultures.  Seeing them gave me this really weird feeling.
 A guy named Andre from River Plate Anglers introduced himself, offered us a seat, and soon we were roasting in the shade and surrounded by school kids who happened to have the day off.  Mark enjoyed showing the kids some of our photos.
At around 9:30 we were joined by several Russians who had just gotten to Brazil and were not yet used to the heat.  One Russian pulled out a bottle of run and needed a glass to drink it with.  He asked one of the English-speaking Russians to talk to Mark in English, who asked a local person in Portuguese if she would get a glass.  While the one Russian was getting a glass, another Russian kept putting ice cubes on his head, and a  third walked up to us with a DVD to share information about world class salmon fishing in Russia that only costs $25,000.  We politely told him that we could catch big salmon in Michigan and for a lot less money, but thanks.
We hadn't been sitting around long before a guy from River Plate Anglers came riding up with a cooler full of water and beer. 
I took a bottle of water and wandered around town to find birds.  In one hour I added a groove-billed ani,  Great kiskadee, and this tropical kingbird to my list of new birds.
I also had time to see a blue-gray tanager, swallow-tail kite and this bird, a hooked-bill kite.  One of the local guys pointed out the hooked-bill kite way up in a tree and I followed him across someone's yard to see it.  Indeed, the highlight of my day was going off with a stranger and trespassing!
An hour passed and then two, and at first we were told there was "No problemo," but when the pilot of our plane showed up under the pavilion to hang out with us, we knew there was indeed a problemo.  The Russians asked Mark what the trouble was and Mark tried to ask the pilot in Portuguse and relay what he knew–which wasn't anything–back to the Russians.  The morning faded into early afternoon, and the local people cooked up a fish and rice for us for lunch.  One of the women also loaned me the key to a tiny apartment so I could a bathroom where flushing the toilet resulted in a small frog doing a lap around the bowl.  The men, meanwhile, wandered off down the road somewhere whenever Nature called.
It was noon at this point, and there was no way we'd catch our flight from Manaus to Miami. But that was okay, there was a later flight out of Manaus to Miami at 11:55 p.m.   Surely we'd catch that plane.  And no worries, we had plenty of water.
By about 1:15, we were told our plane had arrived, so we wandered back to the landing field.  Sure enough, our plane was there, but we had to wait for the rest of the passengers.  Only three of the 9  passengers we were waiting for had arrived.
One of the three passengers told us that the plane that dropped us off at the air field that morning–the plane flown by the 21-year-old–had flown off to another camp to pick up 9 guys from California, and upon taking off, didn't quite clear the trees and trimmed a 4-foot chunk off one of the wings.  Here's what that might have looked like.
Nobody was hurt when the wing got trimmed, but the 21-year-old pilot wisely called in a new plane and new pilots and those pilots were taking the Americans off the river in batches of 3.  With only three of the 9 guys present, that meant we got to spend another 1.5 hours standing on the landing field waiting for the other plane to arrive two more times.  My puffy feet and ankles did not appreciate this too much, but it was really okay because we had an endless supply of water, thanks to this guy.
And I  discovered that if I walked down the road 1/4 mile, I could take a leak just about anywhere.
At 3:30 we finally got onto our airplane with all 9 of the Californians.   Andre had arranged for me to be co-pilot which was nifty until I realized that on our other flights, there was always a real co-pilot.  I knew nothing about flying, which caused me to sweat even more.  And speaking of sweating, the pilot's nose was dripping beads of sweat like a leaky faucet as he went through his checklist and got the plane turned around.  I watched everything he did, and took mental notes as he turned around, checked his checklist again, punched this button, adjusted that, pushed up on the yoke and got us into the air. 
I continued to pay attention to everything the pilot did and after about a half hour I noticed that he was filling out his log and other paperwork! 
To his credit, the pilot was mostly attentive to what was going on, kept the plane level, talked to his pals on the radio now, used his checklist before he landed and got us safely into Manuas around 5:30.  There, we were met by John who guided us to a van and told us he had secured tickets for us on the 11:55 p.m. flight.  We headed by van to the Tropical Manaus motel but soon came to a complete standstill because of the Brazilian festival. 
We sat for 20 minutes going nowhere before we turned around in the 3-lane street and drove another, longer way to the motel.  It was 7 p.m. when we checked in, meaning the usual 25-minute ride from the airport to motel had taken 1.5 hours.  We showered, ate a burger and fries with a few of the guys who'd been in the damaged plane, and met John at 10:00 p.m. for the ride back to the airport.  There, Curt gave me a dozen more aspirin.  So, let's take a moment to summarize:  during this trip two guys from Texas we'd never met before had given us Imodium, duct tape, fishing lures, aspirin, and $500, and they'd escorted us back to our cabin several nights because we seldom remembered to bring our flashlights to dinner.  Those are great people.
As Curt and Bobby headed to the line with the other lucky people who had airplane tickets, John, Mark and I went to the American Airlines line to learn that we did not have tickets after all.  Then we were told the plane was full.  A half hour went by and Curt came back from the gate just to say good-bye.  His plane–which Bobby was also on–left at 11:55 p.m.. 
The American Airlines counter closed at 11 p.m., so we stood in line at TAM to try to get plane tickets on TAM, to no avail.  We returned to the motel at 2 a.m. empty handed and checked into another room . . . with two twin beds.  John wrote his name and phone number on a piece of paper and suggested we call him in the morning.  The name he wrote down: Dion.  Not John.  In fact, Dion is his real name, he just never corrected us because he's just that kind of guy.
Mark and I woke at 7:30 the next morning, had breakfast and called Dion.  He was back in line at the airport trying to get us tickets but had nothing just yet.  He called back an hour later and said we were on the 11:55 p.m. flight.  That meant Mark and I had to suffer the day at the motel, walking the grounds taking photos, and swimming in the pool.  I looked classy with my bathing suit top, zip-off shorts, and two pieces of black duct tape on my puffy, blistered feet. 
Admittedly, though, the hardest part of the day was deciding exactly how many tiny desserts to have for dinner.
Our room and meals were courtesy of River Plate Anglers, and for that we are very grateful. 
At 10 p.m. we met Dion in the lobby, rode back to the airport, and got on the 11:55 p.m. flight.  Mark and I arrived in Miami at 5:35 in the morning on some day.  We were so unsure what day it was, we had to check our passports.  It was Monday, February 11, one full day behind schedule.  We had an 11:35 a.m. flight to Detroit and were back in Lansing by 5 p.m.  After I made a few phone calls–includng one to my boss to ask for another day off–I wrote an email to Curt and Bobby:
 Still stuck in Manaus.  Could use some more Band-Aids, duct tape, aspirin, Imodium, and cash if it's not too much bother?  Oh, and a flashlight we might actually use? 
Seriously, Mark and I got home about an hour ago.  We wanted to tell you how much you guys made our trip and how much we appreciate everything you did for us. Thank you for keeping us afloat in so many ways. 
We hope you guys had a good trip home. We'll follow-up when I get some of my photos online.
Amy
We exchanged a few emails with Curt and Bobby and in one Curt said that the flight we didn't get tickets for–the flight he and Bobby were on–had a few empty seats.  Go figure.
Within days of our return, Mark had a fishing pole ordered to replace the one I broke on the river.  Within a week the first of many lures like the ones the French guys used showed up in our mail box.  Within 10 days the puffiness in my hands, elbow and feet were gone.  Within three weeks Mark was recovered from a cold he picked up on the airplane ride home.  And within a year we are hopeful we will get to return to the Amazon to tangle with peacock bass once again, because it was an amazing experience. 
Of course, Mark is seeking a new fishing partner now because I've caught bigger fish than him 2 of the last 3 trips.  Poor thing.
Day 8 started out sunny and clear, which made for a hot day on the river.  I took covering up to a new level.  
After a good breakfast with two aspirin on the side for my puffy hands and feet, we went upstream and started fishing.  Prato pointed to a tight spot between two logs and I cast the red and black ripper lure in that direction.  We were in a 25-foot wide stretch of water and the fish hit like a freight train.  The fish headed right for a log and suddenly stopped moving.  Prato moved the boat closer to the log, and, oddly, the line wiggled.  It felt to me like the fish was on the line.  Prato put on his scuba mask, took the Bogagrip in his hand, slid into the water, and dove down.  He came back up for another breath, went back down and came back up with the fish secured in the Bogagrip and the lure still attached to the fish.  I was in such awe I took a lousy photo. 
 Prato got back into the boat, used the trolling motor to take us to a nearby sandbar and we all got into the water to get the fish off the hook.  Mark said it was an old fish–its rear fin was all chewed up.  I was quite happy to put the old, 12-pounder back in the water.
Just before lunch, we watched a big peacock chasing smaller fish near the bank of the river.  Mark and I both tossed our lures in the big fish's general direction at the same time, about 10 feet apart.  The fish struck at Mark's lure–which was the blue and white lure I'd been using the last few days–but the fish didn't bite and left Mark with a tangled mess of lure and line.  So I cast again and Wham! the fish hit my lure.  I set the hook and heard Snap! as the special peacock bass rod Mark bought me for Christmas broke a few inches above the handle.  I kept on reeling anyway, holding the stub of a rod in one hand and watching with intrigue as the rest of the rod floated on the surface of the water while the fish got closer and closer.  Prato took the boat to shore and I pulled in an 8-pound fish. 
The afternoon was really hot and we drank more bottled water than on any other day.  We returned to camp, reported the day's catch–20 peacock bass–to Bibi.  As we cooled off in the air conditioned dining cabin Bibi asked us to fill out a form that verified to the Brazilian government that we really existed and that Bibi hadn't been feeding Martians all week.  Bibi also gave us a survey and two envelopes for tips, one for the guide and one for the camp staff. 
And that's when Mark and I both went "uh oh."
As we headed back to our cabin, Mark said that he knew about needing to give Prato a $400 tip but did not realize we needed $400 for the camp staff.  We searched our luggage thinking perhaps we'd tucked money away in something for a case like this (indeed, Mark had done that before), but came up empty.  I did a final look in my purse, and for some reason I had my checkbook.  Mark went off to find Curt to see if he had any extra cash and if he'd take a check in exchange for some cash.  Curt showed up moments later with $500 in cash.  I wrote a check to Curt and thanked him profusely.
After getting our cash tips together, Mark and I created a special box of fishing lures, and took it, Mark's Rapala pliers, Mark's Kevlar glove, and the gloves I'd borrowed from Prato and gave them all to Prato.  Mark said something really nice to Prato in Portuguese, because in response Prato looked shy-like and embarrassed.  Prato shook Mark's hand and then hugged him.  Then Prato hugged me. 
Afterwards, Bibi took photos of everyone. In the photo below, I'm crouched down by the four guys from France.  In the back is Mark, one of the guides, Prato, another guide, three camp staff and another guide.  Kurt is in the orange shirt at top;  Bobby is to his right. 
Dinner consisted of shish-ka-bobs on an open fire with rice and veggies on the side. 
After dinner, we finished packing, something we had mixed feelings about doing.  Physically, I couldn't look any better to apply for an old folks' home.  Mentally, though, I hadn't thought about anything but fishing while we were here.  That intensity, having a few good photos of peacock bass and having been guided by, served by, catered to and bailed out by so many nice people exceeded any expectations I might have had for this trip. 
And unbeknownst to us, the Texans and Brazilians were not done helping us on this trip.
Day 7 began with a brief, heavy rain which turned into light showers on and off during the day.  Such is not generally good for fishing.  But the fact was, Mark had the biggest fish so far and that bugged me.
I went without socks today and used some of Curt's duct tape on my feet to deal with my blisters.  My daily routine:  apply fresh Band-Aids on my elbow from my boneheaded fall in the boat earlier in the week, apply duct tape on the blisters on my hands and feet, and pop aspirin twice a day to help with my puffy appendages.  How cool is that?
As expected, the fishing was slow due to the rain we'd gotten over night. We tried several different lures but always went back to the custom-made black and red ripper and the blue and white lure from Bobby.  Rain stopped in the early afternoon and we got to a lake-like area with several small bays.  We saw some big fish roaring around and Mark, using Bobby's lure, got a big hit by a big fish.  The big fish broke Mark's line and the blue and white lure disappeared again.  Prato tied a different lure onto Mark's line while I continued flogging the same area with a red and black ripper.  We got no hits in that spot again.  Amazingly, though, as we're going around a small inlet, Prato saw the blue and white lure floating in the water.  The big fish had rubbed it off and it floated to the surface!  This time, the back hook was missing and the split ring gone and the whole thing a mess.  Prato repaired the lure by sacrificing a hook from another lure and I was back in action again.  The lure had 3 different hooks on it—one original and 2 replacements. 
While fishing the big lake I got a little too close to shore.  The snagged lure caught the attention of a caiman, so I had to reel slowly and not wiggle the lure.  Prato motored us closer, the caiman swam off and I got the lure back again.  Phew!
Later, I aimed for shore a bit more accurately and my lure was smacked hard.  Soon I had landed a 12-pounder. 
Mark still had the bigger fish, though, so I worked my lure again and again.  Later in the afternoon, we saw lots of splashing at a peninsula where a big peacock was chasing smaller fish.  Mark threw his red and black lure to the left of the peninsula, and when no fish hits his lure, he told me to cast to the right.  And wham! I got a 15-pound peacock bass!
We ended up with only 17 fish, but I was pretty happy to have surged into the lead with the biggest fish.  We were also happy because as we were leaving the area , we found Curt's red and black ripper floating on the water and retrieved it for him.  He was very excited when we gave it to him at dinner. 
The other good news of the day:  it was the first day I had no trouble with my lower right back, even after ripping lures all day.
Somewhere along the line, Mark caught a species of fish we hadn't seen before.  Only after searching the Internet from home later did Mark identify this as a bicunda.
I was so tuned into fishing that it was Prato that pointed out a woodpecker, one I later identified as a female chestnut-colored woodpecker.  
I also saw a female giant cow bird, a swallow-winged puff bird, and a white-necked heron. 
I also took a photo of a yellow-billed tern taking on a much larger large-billed tern.  
On the way home, we came upon this fella, who was delivering food and bottled water to our camp.  He showed up at camp about an hour after we got back.
It turned out camp had been moved downstream while we were fishing.  They moved camp because the river had been falling every day in spite of a bit of rain, and the closer the camp was to bigger water, the better.  We took photos of the new camp site. 
We ate dinner and returned to our cabin–escorted by the Texans again–to find 6 wasps.  The camp staff had opened the windows when they moved the camp down the river today and for some reason our cabin had attracted the wasps.  Now, I'm allergic to bee stings so such an encounter was one of the very things I had most worried about.  And of course, we couldn't kill the wasps, rather, Mark trapped one in a Ziploc bag, pinched the bag closed and handed the bag to me.  I took my flashlight in one hand, the Ziploc bag in the other, ran outside, opened the bag and waited for the wasp to come out.  I returned for the next wasp and did this 6 times.  That night I went to sleep worried that other wasps were still hiding behind the curtains.
The next morning I learned that Bobby was on his satellite phone talking to his wife when he saw me running back and forth with the wasp bags, and he was about to run over to tell me I had attracted the attention of a caiman when I stopped coming out for the last time.  He said the caiman was about 10 feet away from me.  I could see the article now:  "Caiman Snarfs Stay Puft Marshmallow Woman on the Amazon."
On Day 6 Bobby noticed I had blisters on my puffy left hand.  Curt offered me some of his duct tape because Band-Aids were surely not going to stay on in the heat.  I added duct tape to the list of things borrowed from the kindly Texans. 
As I left the dining cabin with the duct tape, I told Mark that I'd be ready in a few minutes.  He told Curt and Bobby I had the peacock bug.  It was true:  I couldn't wait to get on the water.  It was all because of the 12- pounder yesterday and seeing the monster fish hit at the lure several times.  And the fact that I'm a wee competitive.
While en route downriver, we stopped at a narrow notch to feed a caiman that we'd seen before.  Here's what he looks like coming straight at us.
And here's what the caiman is attracted to.
Mark used his Yo-zuri in the narrow notch of river and pulled out a small bass that we threw at the caiman.  The caiman missed the fish. While Mark was working to catch another fish, the caiman stood nearby in the water waiting patiently.   There's something weird about a caiman standing in the water.
Mark caught and released four fish before we finally saw the big splash of a fish being nabbed by the caiman.  He took his fish down stream a few feet to eat.  
We happened to be heading right through the notch in the photo above, so after the caiman was done eating–which consisted of a couple of flaps of his jaw and a gulp–we headed towards him in the boat and he moved out of the way.   Good caiman.
We headed downstream and focused on fishing.  In fact, I was so focused I didn't see any new birds until we were on our way back home.  Being focused led to the most productive day of the week, which was a total of 43 peacock bass, including two 8-pounders and four 9-pounders.  If you've been keeping score, 43 fish is more than the total we caught the first 3 days.
Mark topped my biggest fish of the trip–which was 12 pounds–by getting a 12.5 pounder.   Oh, yes, I was happy for him, but he suddenly had the largest fish!
It rained a bit on and off all day and since it started early in the morning and was cloudy most of the day, I actually wore my rain coat on and off.  Thing is, I was soggy in the rain coat, and I was soggy without my rain coat.  Hm.
At one point during the day, a fish hit the blue and white lure, ran a ways and rubbed the lure off on a sunken tree.  I said, "We must save the lure at all costs!" because that lure had caught more fish for me than any other.  I was really only kidding and therefore quite surprised to see Prato don a scuba mask and lower himself into the water. 
Prato went down to the sunken log the lure was stuck on and came up with the lure in his hand.  Back in the boat, Prato fixed the lure's bent propeller and I was soon off and flogging the water again. Later, when Mark was fishing, the same lure was yanked off by a big dogfish that munched the line.  We thought the lure was gone again, until about a half hour later when Prato found it floating in a little bay.  Prato had to replace one of the hooks by sacrificing a hook from another lure, but once again, we were off and fishing with it again.
Somewhere along the line, our boat developed a leak. 
Prato's solution to the leaking boat was to place a piece of cloth on the bottom of the boat with a spare boat propeller on it.  
On the way back from fishing, we saw a yellow-ish white heron with a blue bill and a fringy bit of feathers on its back, which I later identified as a capped heron.  
Prato also grabbed a river turtle and allowed us a moment to take a couple of photos before releasing the turtle back in the water. 
We were back to camp by 5:00.  Dinner was grilled peacock bass with peas, rice and beans, and chicken with  blobs of other good stuff.  My description of the menu is amazing, isn't it? 
After being escorted back to our cabin by one of the flashlight-bearing Texans, I noticed my feet were puffy and spotted with blisters.  I had socks on all day to protect my feet from the sun, but alas, I think socks inside wet shoes was the cause of the blisters.  My ankles were also puffy, perhaps because of standing in a boat 8 hours a day for several days.  I went to bed with my feet propped up with a few towels.  Feeling sexy for sure.
I woke to find my left arm and left hand were both puffy, and my elbow bruised all around my boo-boo.  I figured if the puffiness continued up my body my head would explode in two days.  Hm.  At breakfast, Bibi shared the story of a fisherman who showed up one morning unable to wrap his hands around a coffee mug with one puffy hand and had to use both just to sip his coffee.   I'm grateful Mark made me use 5-pound weights for the last month–mimicking the motion of jerking baits across the water–because I can't imagine what I'd feel like if I hadn't done anything. 
Bobby and Curt both offered us lures to try, so Mark met them at their cabin.  From Curt we got a 6-inch green lure with black spots on it, and from Bobby, Mark chose a 7-inch blue and white lure with blue and yellow polka dots on it. 
Before we left I asked Bibi if she had a spare pair of gloves to help my sunburned hands and she asked Prato.  He showed up with a pair which I used for the rest of the trip.  (So, add this to the items I borrowed.)  I also improved my sun strategy by taking a bandana to cover my ears and use for dipping into the water to help cool off.  Such was Mark's suggestion.
We went up-river today, which meant a one hour winding, twisting ride.   
 This is one of the palm trees we saw. 
 This is another palm tree we saw.  
 Out in the bigger, more open water, we began fishing.  
 By mid-morning Mark was working his ripper went a fish followed and hit at it but did not bite.  So I threw out a jig and Bam! The fish hit hard and ran a bit, and soon I was face to face with a 12 pounder.  It was our biggest fish so far. 
I also reeled in a 6-pounder.  This photo shows the lure I got from Bobby.  
 Later, I caught about an 8-pounder but it got off at the boat.  The biggest excitement was a fish Prato estimated was close to 20-pounds that came after the lure Bobby gave me.  The big fish smacked at the lure three times without hitting, and despite my best efforts, the big fish snubbed my lure, and simply offered me a glance right next to the boat before swirling off.  I even followed with a toss of the red and yellow jig but that didn't do the trick, either.  "Bye-bye big fishy," Prato said.  Arg.
Mark, meanwhile, was tossing out a variety of lures and caught a few peacocks including this one.
Mark also caught enough dogfish to keep Prato busy, and he caught a yellow piranha.  At this point, Mark had caught a black piranha, white piranha and yellow piranha.   Ha, ha, ha.
Between fishing spots, Mark decided to cover up a bit better.
The rain fell hard at around 2:30 and we got drenched but kept on fishing anyway, even though the fishing pretty well slows down after a good rain.  Our peacock total for the day was only 12.
The biggest thrill of the day was two sightings of pink river dolphins.  I stopped fishing for five whole minutes to try to photograph them and took this not very stunning photo.  But perhaps you can at least tell it's not a river otter? 
 Prato explained that some poachers had been arrested recently for illegally killing several dolphins, so it was a thrill to see that the river dolphins are still hanging on. We also saw a couple of Jesus Christ lizards, but I never got a good shot.  And I never got a good shot of these blue and yellow macaws flying quickly by but took this shot anyway.
When we returned from the day's fishing, I took a quick bath in the river behind our cabin.  I'd seen the camp staff take baths in the river, so I figured I could, too, in spite of the camp caiman.  Mark nervously watched as I took a dunk in my bathing suit top and the pants and underwear I was wearing all day.  Next time, the bathing suit bottoms are going with me.
At dinner I told Bobby I owed today's peacock catches to his lure, a Caribe Pavon prop in "clown" color.   Bobby also shared that he sometimes uses a Rapala Super Spook.  I bet myself a quarter Mark would be online within 2 days of getting home to get us some more lures.
After dinner, I took photos of the tunnels in the sand outside our cabin.  
This is the mole cricket. 
We also turned our black light on to see what insects we might attract.  As we waited to see what came to the black light, Mark stood shining his flashlight up to the sky.  It turns out the black light attracted lots of flying ants and one leaf hopper.  Mark's flashlight attracted a dozen bats. 
This was one of two nights we actually took our flashlights to dinner.  Yeah us.
On the morning of Day 4 I noticed that my left hand was just a little puffed up, my elbow a little stiff, my ears sunburned.  I took heart in the fact I wasn't creaking and popped two aspirins with breakfast, which included eggs, ham, cheese and green peppers on a sesame seed bread.  Quite tasty. 
We're off and headed down river.  It's a great morning which turns into a great day.  We had four doubles, which means two fish on at the same time, four different times.  That's like 8 fish if you think about it.
Then it got even better.  Check out Mark's 8-pound spotted peacock.
But note that I got a spotted peacock that was 10.5-pounds. 
This is my fish up close.  Quite the mouth huh?
We spent most of the day ripping surface baits across the water.   We also caught a few more smaller peacocks, a dogfish and a black piranha.  I like that the word piranha ends with a "ha" as if the joke is on us.
What's important here is that we ended up with 22 peacock bass which was a new record for us.  We also were thrilled to have some fish over 8 pounds to finally report.
While fishing we were occassionally interupted by birds, including some parrots making a ruckous in the trees.  This is one of the rowdy fellas.
 While taking our bathroom break on a sandbar, Prato found an irregularity in the sand and dug down to explose a nest of turtle eggs.  We took a photo and Prato covered the eggs back up again.  Mark asked Prato if he ate turtles and he said yes.   No wonder he could find them so easily.
 We also saw two types of terns I later identify as large-billed terns and the smaller yellow-billed terns. 
We also saw the Amazon kingfisher, which looks similar to the poorly named green kingfisher only bigger.
I also took this shot of a jabiru stork flying by.
And we saw a little blue heron.
I got absolutely baked in the sun and by late afternoon the area above my thumbs was fried on both hands.  Just as I was pondering whether to whine, the rain began to fall.  It came down hard and long enough for me to feel rain fall between my legs, which is a nifty feeling indeed.  Thankfully, our pants and shirts dried by the time we got home.  It was having only one pair of shoes that was a bummer because they did not dry.
When we returned to camp we discovered another really cool thing about this trip:  the camp staff do laundry every day.  All you have to do as guests is put your dirty clothes in a plastic basket provided inyour room, and when you get home after fishing, there, on your bed, is a neat little pile of your clean clothes.  And yes, that includes your underwear and bras if you wear such things.  Oh my.
After dinner, we found that the camp staff sometimes amuse themselves–and guests–by attracting the camp caiman.  Sometimes they do this by simply putting fish guts in the river.
Today I witnessed the caiman snapping up a fish and taking it downstream to eat.  
 After we had dinner dinner, I tried to to get a decent photo of the nightly nightjars that flew overhead but that seemed like an enormous challenge after baking myself in an oven all day.   Shortly afterwards, we wobbled into bed, assisted escorted once again by one of the flashlight-bearing Texans.
Day 2 ran into Day 3 because Mark got up four times in the night due to some silly stomach upset.  At 6 a.m. we dragged our sleepy selves to the dining cabin in search of Imodium, which is something we always take with us on our travels . . . until this trip.  We found Curt and Bobby in the dining cabin sipping coffee and they immediately offered Mark some of their Imodium.  As an extra precaution, I added a roll of toilet paper to the camera lenses in my dry bag.  And as a final precaution, I made two cheese sandwiches and avoided any meat.
We headed upstream to a really twisty, narrow area that required a lot of maneuvering by Prato to get through. 
In this narrow stretch we saw our first freshwater stingray.  Some stingrays have spots and some do not and Mark asked me to keep my eyes out for a stingray so that he could videotape one underwater.  Now, being the supportive spouse that I am, I stood to go to the front of the boat . . . just as Prato kicked the motor into gear.  I fell backwards and smacked my elbow.  Prato stopped the boat and waited patiently while I dumped bottled water on my bloody elbow.  I sat down in great embarrassment and we motored on.  Prato is the one that showed Mark a stingray that was captured on video.  Hm.
About an hour later, we came to a larger stretch of stream where Prato said "We fish."  So we did.  Mark soon reeled in a jacunda, which we learned later isn't caught real often–Bibi has only caught 4 in the 13 years she's fished the Amazon tribs.  
Of course, jacundas don't count for anything, so we continued fishing.  I'd been flogging the water for a while before I caught a peacock bass so small it's barely worth mentioning.  In fact, the morning was so slow I started doubting whether I had what it takes for this trip.  I missed a few smacks on my lure.  Later, I got an arowana.
The arowana is a pretty nifty fish if you ask me because in a river with so many toothy fish, what's this one doing?
By mid-morning Mark had a small butterfly peacock.  An hour or so later Mark caught a barred peacock, but one that still didn't register in the 8-pound range.  It looked nice, though.
Shortly after Mark caught that fish, I had to remove some of the water I'd accumulated in my bladder, so Mark asked Prato if we could pull off at the nearest sandbar.  I had several criteria for a good spot to take a leak in the Amazon:  out of view of the guide, out of reach of snakes, caiman and bees, and within Mark's hearing range.   As I was about to duck behind I tree, I looked back to make sure Prato couldn't see me . . . and saw him taking a leak off the back of the boat.  It's so unfair.
We continued fishing and after lunch—which we ate in the boat—I caught my first spotted peacock using a black and red surface bait called a High Roller.  The fish was, of course, less than 8 pounds.   Mark also caught a black piranha which is a nifty toothy thing that we photographed up close. 
While Mark added a few more dog fish and wolf fish to his list of uncounted catches, I took time out for a few bird photos.  This is a lesser razor-billed curassow.  What makes him lesser than more-er is beyond me.
I also saw this bird.
This hawk let us get really close.  I like that it's a plumbeous hawk because plumbeous isn't a word I use most days.  And does one even pronounce the "b" in plumbeous, because we don't pronounce the "b" in plumber?
And then there were these two really attractive birds.
Way up in a tree, I saw this bird. 
We returned to camp with a mere 10 peacock bass under our belt, which, for those keeping track, was two better than yesterday but still pretty pathetic.  Our total, 18, was the lowest in camp. 
We showered, got something to drink, and while chatting with the other fishermen, learned that they had all been to the Amazon fishing before with one exception–the youngest of the French men.  Bobby showed us a photograph on his phone of peacock bass he caught on one trip–it weighted over 20 pounds.  (He also showed us a photo of a rattlesnake on  his ranch that was really impressive, too).  Bobby shared that he spends most of his time ripping lures across the water; Curt rips and uses jigs.  While we were picking up these tips, one of the French guys brought Mark the empty box from one of the lures he uses, which are made by Yo-zuri. 
As Mark and I walked back to our cabin–with our flashlight in hand this time–I felt inspired and encouraged by all the guys.  They'd shared their secrets; now all we had to do is crank it up a notch.  I waved goodnight to Mark and we both slept really well, thanks to the Imodium.
Day 2 began with a 2 a.m. wake-up call in Portuguese which I responded to with something sort of like "Obrigado"  which is Portuguese for thank you.  We dressed in our fishing garb–lightweight shirts and zip-off pants pre-treated with insect repellent–and walked the quarter mile to the motel restaurant.  There we were confronted with about six tables covered with food, including one oozing with various types of fruit.  While eating, we saw two guys wearing lightweight, colorful fishing shirts sort of like ours.  We introduced ourselves to Curt and Bobby from Texas and learned they were going on trip with us.
After packing up and paying the $166 reais owed for the previous night's dinner (about $80 US currency),  we met John in the lobby and jumped into a van with Curt, Bobby and four guys from France.  John handed out pieces of paper that said something about our upcoming adventure, including that we were en route to the Tapera River.  I mentioned that we were told last week via email that we were going to the Itapara River and John explained that they misspelled the river on the map but had made so many copies of the map they didn't bother changing it.  Ergo, the Itapara is also the Tapera.  Said river is a tributary of the Rio Blanco, which is a trib of the Rio Negro, which flows into the Amazon River.  The Tapera River is really close to the equator.
At the airport, each of our duffels weighed in at exactly the 30-pound limit and I learned that my camera gear does not count towards the weight limit, which means I could have taken my bathing suit bottoms, a pair of sandals, and some other useful things.  While packing (and re-packing), the emphasis had been on lures and more lures, so certain sacrifices had been made.  Some will prove inconvenient.
Within 10 minutes we were loaded up into a small plane that has both wheels and floats on it. 
  It holds 8 passengers and their gear uncomfortably.
Once we were in the air, the view out the window gave me the impression that the Amazon and its tributaries go hither and yon all over the country and are surrounded by lots and lots of trees.
After about two hours, we came to what appeared to me to be a pretty narrow stretch of river.  The pilot circled the area once, circled again lower . . .
. . .  and landed us safely on the Itapara /Tapera River.  Waiting on the banks to go home were several Americans–all men.  Waiting in boats to take us to our cabins were our fishing guides–all men.
The guides loaded up our luggage and motored us to our floating cabins.  The first thing I noticed is that the floating cabins were beached on a sand bar so weren't entirely floating.  In fact, we would never be on the floating cabins when they were all floated down the river.  We would be staying on beached, semi-floating cabins.  And that was just fine with me.
  Our cabin looked like this from the outside.
The inside of our cabin looked like this.  The first thing I noticed:  two twin beds.  How romantic.
Unpacking meant putting some stuff on a single shelving unit and other stuff on a table.  It also meant adjusting the air conditioner to cool things off a bit more.  Afterwards, we wandered to the air conditioned dining cabin to get some bottled water and make a lunch.  There we met Bibi, the camp host who made us feel immediately welcome.  She said we could make a lunch and go fishing whenever we were ready.  She also said to bring our flashlights to dinner because, "The caiman sometimes like to sleep on the camp beach at night."  Hm. 
I made a cheese sandwich for myself, a ham and cheese for Mark, and we loaded up our gear into our guide's boat.  His name is Prato and he's a 34-year-old Brazilian who doesn't speak much English.  
Mark had practiced Portuguese using some DVDs over the last month and he was quite excited to chat with Prato and expand his grasp of the language.  That was good because all Prato said was "Bom dia" (which means "good day"), followed by "We go" as he waved towards the boat.
As we motored down the river, I spotted my first bird, which I later identified as a pied lapwing. 
About a half mile downstream from camp was a sight that made me gulp. 
The caiman was about 15 feet long.  And while it was currently dead, it wasn't dead before and that meant it was formerly roaming the waters near our camp.  And it maybe had big friends.  It being big and dead also meant something really big had killed it.  Bibi later told us that a jaguar had killed the big caiman.  To summarize, we knew caiman got big, caiman liked to hang out at our camp sometimes, and jaguars like to eat caiman.  Hm.
Downstream a bit further, we came across a jabiru stork.
About twenty minutes later, we got to a spot Prato said was good for fishing and we knew that because he stopped the boat and said, "We fish."  Now, the great thing about having a fishing guide is that he is perfectly happy to tie a lure onto a fishing pole and he's perfectly happy to take the fish off the hook, too.  Prato looked through Mark's fishing lures, selected a jig for me and something else for Mark and we were off and fishing.  Soon I was distracted by a giant river otter.  I didn't get much of a shot of it, but enough to show that I actually saw a giant river otter on the Amazon! 
Shortly after we saw the river otter, something made a large splash near Mark's lure.  It was such a large splash it caused both Mark and me to stop reeling in our lures.  Prato said, "Reel!" so Mark continued reeling and wham! the peacock slammed his Yo-Zuri crystal minnow.  He set the hook and reeled in his first peacock bass.  We were both very excited.  Here we were two sort of ordinary people from Michigan on a tributary of the Amazon River catching peacock bass.  Cool!
Later, Mark caught a butterfly peacock bass, which looks like this.  
The action of our fish caught the attention of this caiman.  He loitered around for a few minutes, realized he was in the company of inexperienced gringos who were unlikely to catch too many fish for him, and disappeared in the water.
We moved to a different spot after Prato said, "Moving!" and I caught this wolf fish, or traira.
Mark also caught this toothy fish, which is a dog fish.  Some call this a mini barracuda.
I caught a couple of peacock bass but they were pretty puny.  I kept getting distracted by birds, including one that was really hard to see. 
This colorful bird was a lot easier to see.
This hawk didn't seem to mind us getting fairly close.
And finally, we saw this bird.  It's called a southern lapwing, which is odd because I was just minutes north of the equator when I saw it. 
We found this bird to be most peculiar because when we zoomed in, we noticed it had two red protrusions on its chest.  My birding pal, Mike Bishop, Alma College, later told us that these are "bone spurs that are protruding from the wrist of the wing.  Both males and females have them and I assume they are used for defense, maybe."  Strange indeed.
At around 4:30, Prato took us back to camp where Bibi greeted us with a notepad and paper to document what we had caught.  Prato reported that we'd caught 8 peacock bass.  Bibi wrote that down, nodded and told us that snacks and cold beer were waiting for us in the dining cabin.  
The floating dining room had a refrigerator with lots of cold beer.  The room also contained a small bar allowing us to make a rum and Coke.  Some kindly staff person had also mixed a lime-based drink that was really, really easy to sip.  And so I did.
We'd just sat down with a cold drink when Roberto, one of the camp staff, came in with a small stick in his hand and started beating on a small snake that had made the mistake of coming inside the dining cabin.  Mark jumped up from his chair, tried to tell Roberto not to hurt the little snake, that it was harmless.  Now, how he knew the snake is harmless is beyond me, but before I could say anything, Mark had the snake by the back of the head, had carried it outside and thrown it into the river.  When I asked him what kind of snake it was he said, "Clearly, since it's now in the water, it's a water snake."
With that, dinner was served.  It started with a very tasty bowl of soup, offered with a dash of a container of farina that was always on the table.  Soup was followed by a variety of food including fish, chicken and beef dishes, the extent to which surprised me considering we were out in the middle of nowhere.  It was all quite tasty. 
During dinner we learned that Bibi radios in every evening to report on the fishing, and what she reports is the number of peacock bass caught by the guests and the number of peacocks 8 pounds or bigger.  Nobody seemed to care about wolf fish, dog fish or any other fish.  And nobody talked about birds.  It was all quite peacock-y.
Night fell by the time dinner was over.  And because Mark and I had forgotten our flashlights, Bobby kindly walked us safely back to our cabin.  I wrote a few notes in my journal, waved goodnight to Mark from my twin bed, and tried to nod off without thinking too much about snakes and caiman.
My last blog posting was about a fishing trip to the jungle to catch peacock bass, and some people said that it appeared to be easy and go rather perfectly.  Here's the real story.
We left Michigan on a Thursday at 5:35 a.m., arrived in Miami for a lovely afternoon there, then got up at 2 a.m. to catch a plane to Manaus, Brazil.  We reached Manaus before noon and it was 90 degrees, which, considering the balmy 25 chilly degrees we left in Michigan was a wee warm for us.  We sweated our way through customs, retrieved our two 30-pound duffel bags and saw a fella with a sign that said "River Plate Anglers" which is the company we booked with.  We heard him say his name is John, and his job is to guide us safely from the airport to the motel.  He led us to a van which we rode about 25 minutes to our motel, the Tropical Manaus.  We checked into the motel and walked what seemed like a quarter of a mile to our room. 
Once we got to our room the first thing I noticed:  two twin beds.  How romantic.
Before I could unpack, Mark decided I needed to experience some of the local culture and hired someone John knew to take us on a private tour of Manaus.  Now, Manaus has 2 million people and well, after 18 years of marriage, I thought perhaps Mark knew I'm not big on big cities and that I prefer to wander around outside the lovely grounds of the motel and photo birds?
 And bugs?
We had exactly 10 minutes to take photos before we were picked up by a guy whose name might have been Vilmar, which I'm not likely spelling correctly.  He drove us in a car that wove easily in and out of the traffic and down some side roads.  I liked that the necklace on his mirror swung back and forth as he weaved around.
After whizzing around, stopping at an outdoor market and bargaining for a rare parking spot, we got a tour of the opera house.  It's a famous spot in Manaus and if you're into things like this, you'll probably like what you see here.  If you're like me, you go, "Hm."
 We went into another room of the opera house, and if you're like me, "Hm."
 It was late afternoon by now, and since we did not have lunch, I asked if perhaps we could find an ice-cream cone?  One has to eat ice-cream quickly in the 90-degree heat and I had no sooner snarfed my cone when we headed to the city market.  Immediately I realized it was a bad idea to have eaten anything, because in addition to some small booths with fresh fruit, there was a booth filled with thousands of small, dead shrimp, and a huge area with fish, none of which were refrigerated or on ice.  They were all just lying there dead.  And there were fish parts on the floor. 
Mark was intrigued, of course, and he made me take lots of pictures, including one of this guy who was salting his fish bits to preserve the fish.  Truly, I have taken refrigeration for granted.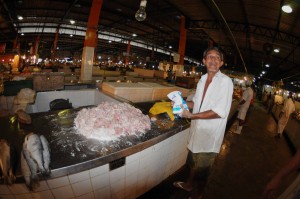 The air in the market was quite memorable, and with a few flies buzzing around, I was delighted to see daylight and step into the sort-of fresh air.  Across from the market we saw these colorful boats docked on the Amazon River.
Our tour continued hither and yon to a few other places in the city which I barely recall.  At about the time I was smelly as a dead fish and tired to the point of staring stupidly, Vilmar dropped us off at our motel.  It was dark outside as we wambled inside and down the halls the quarter mile to our room.  We showered, ate dinner, and after I set the alarm for 2 a.m., I waved good-night to Mark and fell fast asleep in my twin bed.