Archive for the 'Nature' Category
Once upon a time, Mark decided to take his son, Arthur, his nephew, Terry, his good friend, Jack, and me, to Canada to go fishing. The location Mark chose was Kasba Lake in northern Canada.  For months prior to our August 1 departure, new fishing lures arrived in the mail to my house about every third day.  When it came time to pack, Mark realized, "We have more lures than we can possibly use in eight days.  And if we took them all, they'd weigh more than the 50 pound limit we can have for luggage."  Packing was a lot of fun.  I think we weighed our bags four times.
To get to Kasba Lake one must either first fly or drive to Winnipeg.  Since Mark and I had spent a small fortune on fishing lures, some of which remained home, we opted to drive.  Lucky for us, Jack had spent his money on a brand new Chevy Traverse, so Mark, Arthur and I loaded up in that and drove and drove and drove to Winnepeg.  There, we met Mark's nephew, Terry, and hopped onto an airplane that took us further north.
The plane looked something like this.
We took some small plastic bottles with us to take the edge off.
Two hours later, we arrived at Kasba Lake Lodge.
At the lodge we were fed a yummy breakfast.  Note the fine accommodations.
Afterwards, we helped load up the float plane.  Luggage went into the floats and into the back of the cabin.
This is a view out the window of the float plane.  There seemed to be more water than land.
The pilot, Larry, told us the airplane had a great engine that would allow the plane to continue flying even if something went wrong.  How ominous.
While Jack sat in the co-pilot seat, Terry, Mark and I sat in a middle row seat, and Arthur sat in the back with the luggage.
About twenty minutes after we took off, we landed on the water and tied up to a dock in front of our outpost cabin, which was our home for 8 days.  It's on Tabane Lake.
The cabin was made of plywood, with a screened-in porch decorated with a lot of duct tape.  Duct tape held the glass onto the front door, duct tape held the bits of screen together where a bear had punched it in a year earlier, and you can see duct tape on the ceiling in the photo, below.  The cabin consisted of one main room with 4 bunk beds, a stove, fridge and sink.
The bathroom was a tiny affair.  The shower dripped the entire time and the one side was so flimsy it could probably be pushed down by a hoard of black flies.  But, as Mark said, at least we had indoor plumbing–on a previous trip, we had an outhouse.
Food and beer had been left in coolers and in the fridge.  We soon learned that in Canada, a case of beer is only 15 beers, whereas a "flat" of beer is 24.  We had to order more beer via satellite phone with Larry mid-week because of our wee misunderstanding (as in, "Bring in a flat, Larry!").  Indeed, Larry flew in mid-week with beer, dish soap and other essentials, not including mustard, which Jack watered down so as to last longer. We were the last group to use the cabin for the season.
Our meals consisted of burgers on the grill, steak, and fresh lake trout, amongst other tasty food, compliments mostly of Chef Jack, with help from Arthur.  I must say that the Arthur-Jack rub on the steaks–consisting of Tang, coffee grounds, orange peels, and Mesquite rub–was simply amazing.
I soon discovered that some men snore at an amazing volume, and with the drippy shower as accompaniment, it was a bit too much for me.  I slept on the porch most nights.  The citronella candles mostly kept the mosquitoes at bay, adding their own symphony to the air.  The lovely cotton liner provided to line the sleeping bags actually stayed in place the first night.  After that, not so much.
Our eight day stay consisted mostly of fishing, of course.  Arthur hadn't caught too many fish in his life, so we were all excited when he caught his first lake trout…puny little thing that it was.
And when Terry caught his first northern pike ever, it was cause for celebration.  But not as great a cause as when his second-ever pike was 41 inches.  Of course, Mark would later beat this fish by two inches.
In addition to fishing in the lake, we also explored three streams, one of which had killer rapids that tried to flip Terry and Jack, another of which took most of the way to get to, and another of which was kinder and gentler.  Everyone caught at least one grayling, none of which cooperated for photos.
The first few days of fishing were warm enough for a nifty dip in the lake.
But mid-week, the temperatures dropped and the warmer clothes came out.
Between bouts of fishing, I fell for a few of the local critters, including this rabbit, which may or may not be an arctic hare.
The rabbit did something I'd never seen before:  it took off swimming across the lake.  I held my breath the entire time it was swimming, knowing that a big pike wouldn't hesitate to eat a rabbit.  Luckily, it circled back and returned to land about 500 feet from the lodge.  We still have no idea what it was doing.
I also fell for the resident jays.  They showed up the first evening and searched around the hull of our boats.  It didn't take them long to find some trail mix that had accidentally fallen over in the bow.
I quickly discovered that the jays loved the nuts in the trail mix, but not the raisins or M&Ms.  That worked out great for me, because the raisins and M&Ms were my favorite.  So, I shared the rest of my trail mix with the birds.  I put some on the boat…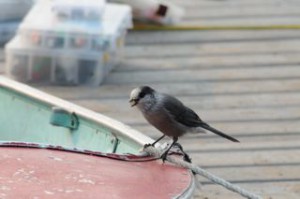 …and I put some on a burning barrel.  Jack took up the sport, sharing his walnuts and peanuts by making small piles on the ground.
Other birds we saw included a boreal chickadee, a redpoll, common loons, an arctic loon, eagles, gulls, arctic terns, three birds I will have to get identified by my Alma College birding pal, and this shorebird.
I also took time to shoot the smaller things…
…including the lichen and other macro-life.
And let's not forget the fresh blueberries!
Of course, bears like berries. And we did see some bear tracks on another island.
In the arctic, the sun doesn't set in August until around 11 p.m.  Most nights, it was worth staying up for the sunset.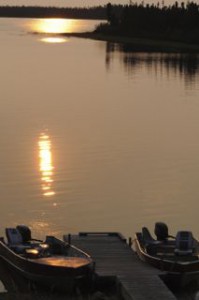 And sometimes, there were still things to do.
The week went by in the blink of an eye.  The fishing was fast and furious, especially for pike.  The overall size of all three species of fish–lake trout, pike and grayling–was smaller than Nueltin Lake and smaller than at the main lodge, where, at Kasba Lake itself, one lucky guy got a 36-pound lake trout.
But the numbers of fish kept things interesting all week.  As did the weather.
And Mark caught enough fish to get boo-boos on his fingers.  Poor fella.
On our last evening at the outpost cabin, the men smoked cigars, and we all tried to finish off the rest of the expensive beer we'd paid for.  That meant four beers per person.  Burp.
The next morning at 7, Larry flew in to pick us up in his plane and take us home.  It was rainy and the plane's engine wasn't as loud as when we took off from the lodge, making me a bit worried.  My worry gene was correct, and if you go to my FB page, you'll see the hairy video flight back to Kasba Lake Lodge, where a cylinder blew on the plane.  Aaaahhhh!
Larry keeps a sign on the cockpit of his plane that says that "Tipping the pilot helps him remember where he left you."  Upon landing safely with a blown cylinder, I gave Larry a nice tip!
After another great breakfast at the main lodge, we took the plane back to Winnepeg, which involved a stop-over at Lynn Lake to refuel.  At Winnipeg, we said good-bye to Terry, and Arthur, Mark, Jack and I headed to Jack's car for the loooong ride home.  This is a parting shot from Kasba Lake Lodge.  Thanks, guys, for the great time!
First, thank you all for being part of International Author's Day on July 18 and entering to win the free copy of Something Furry Underfoot.  Congratulations go out to Bonnie H. for being the winner of the free, autographed paperback version.  Everyone else that entered can still nab an e-version of my book for 99 cents through the end of July.
And now for the fun story about the latest critter Mark brought home.  Last Thursday, while putting his canoe in the water at a boat launch, Mark saw this tiny black kitten.  Mark had a friend with him and they left the kitten to wander the shore of the lake.  Hours later, the men returned to the boat launch and Mark called for the kitten in vain.  Part way down the road to his friend's cottage, the men realized that a canoe strap was missing, so they returned to the boat launch and Mark called for the kitten again in vain.  An hour later, after having lunch at his friend's house, Mark returned to the boat launch area, called for the kitten one more time and out came the kitten from the thick underbrush.
Mark named the kitten Preto which is Portugese for black and also the name of our Amazon fishing guide.  The kitten was mild mannered, gentle and sweet.  The puppies loved him.  I couldn't get over how black he is.
Mark loved the fact that Preto would sit on his lap.  Snickers and Winston loved the fact that the kitty would play.  It took Purrkins 2 days to warm up to Preto.
I brought my mom over to see Preto on Sunday.  She thought he was pretty nifty, too.
On Sunday, Preto woke up but didn't want to eat.  He refused milk.  He refused water.  And when I picked him up, he felt really warm.  We drove him to the MSU Small Animal Clinic where the vet suggested blood tests to eliminate the potential for a fatal virus.  And because what Preto had might be fatal, he was taken to an isolated area in the Clinic.  The vet called later to say the blood tests showed nothing and perhaps we should do an x-ray (for like $150) and an ultrasound (around $330).  We countered, suggesting an antibiotic and call us in the morning.
We left Preto overnight.  The next morning, Mark returned Monday and paid the $700 bill at the MSU Vet Clinic (AAAHHHHHH!).  Yes, for emergency services, an IV, antibiotic, fluids, isolation, blood tests.  Gulp. Mark took Preto to the Haslett Animal Hospital where we knew we'd pay less than an arm and a leg per day.  There, Preto was given a new IV, different antibiotic, but his temperature remained the same.  Monday turned into Tuesday with the same results. Tuesday night, I asked Mark how much more he was going to put into this kitten.  Mark said, "I don't know.  But when I drove him home, I told him I'd take care of him."
But of course.
This morning, Dr. Melissa Wyatt shaved various sections on Preto looking for a reason for his illness.  Dr. Wyatt shaved Preto here and there, looking closer, looking for reasons for his illness.  And then she saw it, a small hole in his neck where he'd been bitten by a botfly.  The life cycle of a botfly in a kitten or cat is the stuff of a horror movie, so I'll spare you those lovely details.  I will share that it's only the sensitive kittens/cats that develop a fever.  It's just our luck that Mark brought home a sensitive kitten.
Thankfully, Dr. Wyatt removed the botfly today and–get this–saved it in a bottle for her vet students to see (which is something Mark would do!).  In fact, Dr. Wyatt is my hero, not only for solving this mystery, but because she removed a sewing needle from Purrkins' mouth once, removed all of Little Dipper's teeth over the course of three surgeries, and kept her doors open just for me when I brought Dusty in after he'd been attacked by a bulldog.
At home this afternoon, Preto took to the comfort of Mark's lap.
Soon, Preto began eating the dogs' food (in spite of his own food being nearby).
After he ate, Preto curled up in the sun for a nap.
Winston came by to make sure he was okay.
Snickers goes out of his way to be with Preto.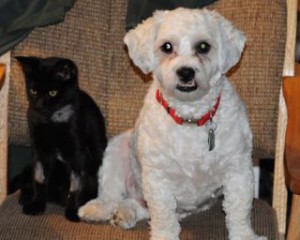 My book Something Furry Underfoot is all about taking care of and spoiling a whole bunch of different animals Mark kept bringing home.  Preto, who has already wormed–or shall I say botflied–his way into our hearts, is just the latest example of why there will always be something furry underfoot in my house.  It just happens.  And it's always a good thing.
P.S.  Don't forget–you only have until the end of July to enter the Petspage.com giveaway for lots of great pet-related prizes, including a free copy of my book.
It's true, I'm spoiled.  And this year, Mark spoiled me with not only a Rago Rat fishing lure, but also a chocolate cake with my name on it.
The Rago Rat lure is the floating lure of choice when going after feisty fish like pike or bass.  Just throw it out onto the water, wiggle it now and again and wait for the water to boil.  The cake needs no explanation, of course, but it did turn out the cake was not chocolate–it was yellow.  The cool thing was that when I told Mark "It's the thought that counts," he thought some more and there appeared another fishing lure.  One I'd never seen before.
It's called a Shamano Waxwing and it looks quite strange because it seems to have fins on the top of its head and underneath its head.  This lure will go down about 1.5 feet and then waggle back and forth under the water.
I then learned one waxwing is not enough, so there appeared another one.
I know, all you ladies out there are super jealous, but consider that it'll be several months yet before I'll be able to tell you if these lures catch any fish.  Meanwhile, I'll be enjoying on a delicious–albeit yellow–cake.  How sweet is that?
Thanks to my squirrel-loving friend, Chris Johnson–who recently shared two very cute photos of baby fox squirrels with me–I was reminded that January 21 is National Squirrel Appreciation Day!  Now, there are people who like squirrels and there are people whose spouses arm them with Christmas gifts in anticipation of the year's event:  for example, a soft blanket, a t-shirt and a welcome mat.
Hence qualified to write about squirrels, I must share that over the course of the last year, we experienced some very interesting things in the world of squirrels.  We saw a mother fox squirrel nesting in a nest box in our front yard, but we didn't see her babies until one day, late spring, when she guided them across our roof and onto the fence on the left side of our deck.  There, she tried to entice them onto the deck, which is usually flush with sunflower seeds.  As I took photos of the two babies with their mom, though, I realized that one of the baby squirrel's tail was injured, as in chopped off.  We named the squirrel Stumpy.
While the mom jumped down onto the deck to show the two babies how to stuff one's face with sunflower seeds, the two babies would not budge.  When one of them made a squeaky type noise, the mom ran back up the fence, nudged the one baby, then seemly wrapped her arms around Stumpy.  We felt we'd witnessed a very tender moment in the world of squirrels.
Moments later, she guided the babies off the fence, back across the roof, to their nest box in the front yard.  We didn't see the family again for about two weeks.  When we did, it seemed Stumpy's tail was healing over!  Mid-summer I took this shot of Stumpy.
In the fall, on another box in our front yard, we saw another touching moment between mother and baby squirrel.
Our yard is also home for a gray squirrel, which is sharing a box with two black squirrels.  She appeared as a young squirrel and is now rather, well, matronly.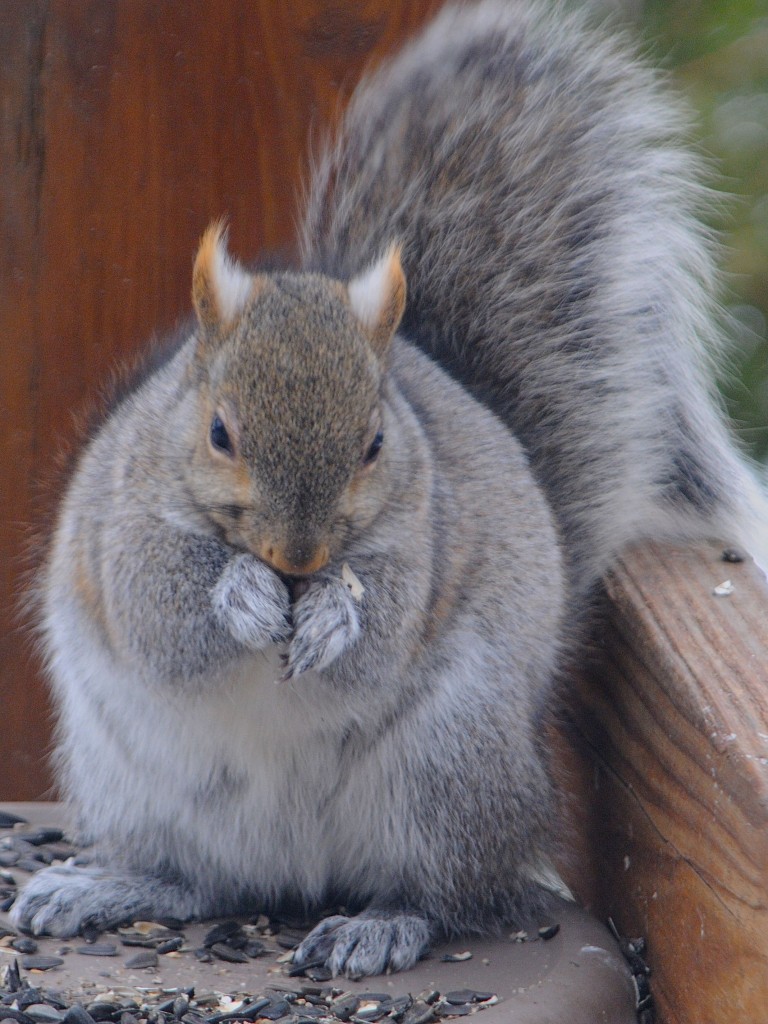 We also are visited by her black squirrel friends.
I captured this photo after we shoveled the deck off for our pals, during a light snow.
And this fella showed me something I'd never seen before.  He was eating the snow, but it looks from the photo as if he was preparing for a snowball fight.
Our yard is also visited by squirrels that seem to be a mix of colors.
Today we saw six baby black squirrels emerge from a box in our backyard, along with their mom.  Soon, they were racing up and down our cottonwood and creating disharmony for the nearby, resident fox squirrel.  Below is a photo of six of the family members.
So happy National Squirrel Appreciation Day, all you fellow squirrel lovers!  Oh, and remember, this day was chosen because food sources for squirrel are at their lowest.  Don't forget to put out some sunflower seeds or corn for your fuzzy pals.
Mark and I have placed many wooden nest boxes around our small yard in the hopes that birds or squirrels will take up residence.  We've witnessed enough squirrels over the years that we know a mother squirrel keeps her babies in their nests–or in our case, wooden nest boxes–until the babies are about 3/4 the size of the parents. Unbeknownst to us, a mother fox squirrel and her two babies had made a box in our front yard their home.  May 16 was the first time I saw one of the babies. 
Nearby was the squirrel's sibling. 
We guessed that the mother of these two squirrels was one of the ones we'd seen stuffing her face on the mountains of sunflower seeds we pile on our deck for birds and squirrels.  And sure enough, the next day, we saw the mother squirrel guide her babies out of the box, up the tree, onto our roof, and onto the fence on the one side of our deck.
Since we'd seen the mother squirrel enjoying our sunflower seeds, we suspected she was showing the babies where they would always find food.  She climbed onto the deck, and, when the babies didn't immediately join her, she went back up to reassure them.
After touching both of them, she returned to the deck, ate some sunflower seeds and waited.  I watched both babies for several minutes and noticed the one on the left seemed to start shaking or shivering.  The mom noticed, too, and ran back up the fence.  It was only after I snapped this photo that I saw the baby on the left was missing part of its tail.
The mom reassured the first baby, then turned her attention to the one with the chopped off tail.  She licked his wounded tail and then put her arms around him to comfort him, to get him warm?
We watched a moment longer and realized the same baby with the wounded tail also was holding up its right front paw, as if it, too, was injured.
Shortly after I took the above photo, the mom led her two charges back up the fence and to the roof. The healthy baby leaped and hopped along, while the wounded baby walked carefully, slowly, stumbled a bit, and barely put weight on his front right paw.
For days afterwards, we didn't see any baby fox squirrels outside our front yard; we did see one on our deck, and it was the healthy baby with the healthy tail. Days went by as we wondered what happened to the wounded squirrel.  Then on June 1, we looked out in the back yard and the squirrel baby we bravely named Stumpy was eating corn!
By June 22, Stumpy had braved the deck and was eating sunflower seeds.
For the last few days, each morning, we wake up at 6:30 to see Stumpy outside on the deck eating seeds.  And each morning I see Stumpy, I think of Stumpy's mom and that tender moment on our deck.
A few years back, we got these live traps for trapping mice in our basement, and every now and again we set them.  Two weeks ago, we set two live traps and the first night, we captured a mouse whose tail was about half as long as it should be–the tail had been chewed off, perhaps in a narrow escape.  Mark released the mouse into the backyard.
A few nights later Mark lifted the bar-b-que and inside was a mouse whose tail had been chopped off.  We got a plastic cup, pushed the mouse into the cup, lowered mouse and cup to the surface of the deck and the mouse wobbled off.  Three nights later–last Sunday–we grilled again and once again, came face to face with a mouse with a chopped off tail.
We found it hard to believe there was more than one mouse with a chopped off tail, and since we'd had three encounters with a mouse with a poor strategy for survival, the second time it showed up in the bar-b-que we eased the mouse into the cup and put him in an aquarium.  Having raised numerous small rodents over the years, we happen to have in our house a coconut ball for the mouse to hide in, an exercise wheel, some tubing from a hamster cage, a wee dish for food, a water bottle, and in case he was a bit challenged and couldn't figure out a water bottle, a milk jug cap with water.  We added some sunflower seeds and hamster food.  Hours later, Willi, a.k.a. kid #4 called, suggesting Smokey Joe for the name of our mouse.
In addition to a shortened tail, Smokey Joe's right ear was a bit tattered and he had a patch of fur missing on his back.
Smokey Joe immediately adapted to his new surroundings.  He took up residence in the coconut ball and came out in the evening to eat and to run on the wheel.  In fact, he not only runs on the wheel like most small rodents, he also stops mid-run sometimes and hangs onto the wheel while momentum takes him around three or four times before the wheel comes to a stop.  It is quite fun to see.
Smokey Joe also knew what to do with the bits of tissues and made a nice nest for himself inside his coconut.
We don't know how old Smokey Joe is, but we figure whatever time he has left he can spend inside our house instead of in a bar-b-que or in the yard.  He's shown he can take some hard licks in the real world and we figure there's no harm in an old mouse retiring to the life of luxury.  Welcome to retirement, Smokey Joe.
Sometimes vacations aren't everything we want them to be.  Consider the one Mark and I took last week.  The plan was fairly simple:  meet up with my cousin in Georgia on Saturday for a few hours, then hook up with Mark's nephew to go fishing for a few days in Alabama, and wrap up the trip visiting several of my Alabama relatives.
While Mark and I waited for Ryan to show up at his own house, we poked around  Ryan's bushes looking for birds.
This is the mother mockingbird about to feed her baby a nice little bug.
What I learned is that police officers don't like snoopers. 
Now, if you haven't been arrested in a while, you might want to note that the back seats of police cars are now made of really hard plastic which makes sitting a thing to do gently. I will also share that the view out the window of a police car isn't as good as a normal car.
After I got the message that poking around bushes isn't a good hobby, we were invited in for some of Ryan's most excellent home-made beer cheese soup.  We also had a chance to look through some family photo albums, including one that belonged to my grandmother, who was also Ryan's grandmother.  In one, I found a photo of our grandmother with a guy she ran off with after she was married to our grandfather.  His name was Billy McDonald, a.k.a. Lt. William C. McDonald, a stunt pilot and member of the legendary Flying Tigers.  I learned about her affair a few years back, and I also knew my grandfather took her back.  But who would keep a picture of the person they had a fling with after they made up with their husband?
With a wee bit of fun family history under our belt, we left Georgia to meet Mark's nephew and fish a pond in Alabama.  To get to the fish pond, we had to go cross-country, which in this case, meant going across a farmer's peanut plantation, because, well, we didn't exactly see where the road went. 
Luckily, the farmer didn't shoot all three of us, allowing us to spend two and a half days fishing the fish pond, which is smaller than the lake in my backyard.
I'd share all the photos of all the big fish we caught, but, well, there weren't any big fish caught.  But we had fun fishing, eating at Hardees and Sonic, shopping each evening at the local Wal-mart (which has a great tackle selection), and relaxing at a condo on a big lake.
Soon we were off to see my relatives.  Now, my uncle was in the hospital, so I didn't take any photos of him, and my aunt didn't want to leave the hospital for lunch, so I didn't take any photos of her, either.  We also had lunch with my cousin, Greg, but I forgot to take my camera.  The only southern relative I got a photo of is with my cousin Janet, who is named after my grandmother but much nicer.  Janet drove us hither and yon around Alabama so we could meet with her brother, mom and dad.
We also spent a little time at Janet's house taking photos of the birds that showed up in the backyard.
Our plans also included having lunch with my Aunt Joyce, but her sister passed away the night before we were to meet for lunch.  Big hugs and lots of love go out to Aunt Joyce. 
Friday morning Mark and I drove home to find four tiny piles of dog poop on our dining room floor, the back door open, a mess of dishes on the counter, and a nearly full cat litter pan.  After cleaning up and firing our animal caretaker, we settled in for a beautiful weekend in Michigan to reflect on our trip. In spite of a lack of photos of some of my relatives, and in spite of the lack of big fish, it was a good trip, and it was great to spend time with family we seldom get to see. 
After 25 years working in an environmental program, I have to say that one of the best things I get to see is the annual celebration of Earth Day at my place of work in downtown Lansing.  For one day a year, we open the doors and allow kids to come inside to learn about what they can do for the environment. 
Around the atrium were posters kids made for Earth Day. 
Inside the building were dozens of booths where kids could interact with turtles, frogs, snakes, and other critters.  Most of the critters were live except this one.
In one of the conference rooms, kids got to touch a sea lamprey.  Some were more excited about this than others.
In another room, kids got to hold a parrot or two.
Docents from the Potter Park Zoo brought in a variety of critters, including a large snake that spent most of its time coiled around itself, and a tarantula that seemed content just to hang out on a lady's hand.
The Potter Park people also brought a blue-tongued skink. I got to touch the skink.
Another nifty creature from Potter Park Zoo was a European eagle owl, which, the nice lady said, is the species of owl seen in Harry Potter movies.  Now, I spent 10 minutes trying to photograph this owl, and most of the time he avoided looking at me. 
Mostly, the owl looked out the window in the opposite direction.  This is the only moment he actually looked right at me.
The Zoo folks also brought a black chinchilla.  He had really soft fur. I wanted to take him home but the lady said no.
Okay, so I'm just like all the other kids that like to interact with critters.  But clearly, it's one of the best things we do each year.  I mean, just look at the smiles. 
Happy Earth Day everyone!
One evening recently I went to the bottom of my basement stairs to move some laundry when I found a baby mouse on the floor.  Now, you might wonder, as I did, why there was a baby mouse on the floor, but that was only after I wondered if he was alive.  I called Mark, who came bounding down the stairs, picked the little mouse baby up and announced that it was alive, but barely.  We took a moment to poke around the basement to see if there were any other babies and found one more lying on its side under some empty corn bags, dead.  Later, we found a mouse nest inside of an old pair of Mark's waders.
At the time, though, there was a baby mouse to take care of.  Mark got a drop of water on his finger and watched the baby drink.  He said that she needed some milk, and that our milk wasn't as good for it as canned milk, preferably with vitamins in it.  You'll find it a Meijer in the baby food section, he said.
While I ran off to Meijer to pick up $15 worth of supplies for a mouse who refused to tell me what it preferred to drink, Mark gave the wee mouse a drink using a little eye dropper.  
 Mark also gave the mouse a Cheerio and held the little thing in his hands to keep it warm.  And unfortunately for me, he also looked for information online about baby mice, because when I returned with my bag of goodies, he shooed me back out the door to pick up KMR kitten formula, which was recommended on some web site about mice.
I returned with powdered kitten formula, added some of the powdery stuff to some water and handed the mixture to Mark.  He used a paint brush to feed the mouse because he said it was better than the eye dropper.
I found the little thing so cute I had to include the above photo zoomed in a bit more. 
Once the little mouse was fed, I dug out one of a half dozen empty aquariums in our garage and added a hot rock–a plastic rock-shaped gadget that you plug in to create a type of hot pad for mice and the like.  We also added some of the mouse nesting materials we found in the basement and a milk jug cap with some oatmeal mixed with kitten milk. 
Mark fed the little mouse several times before he went to bed at 11 p.m., and at one point, the little mouse wobbled around inside the aquarium for a bit before disappearing inside the mouse nest.  Mark got up at 3 a.m. to feed the mouse again, and he said all signs were good that the little fella would make it.  But at 6 a.m., our little mouse pal had a faraway look in his eyes as if he wasn't so sure about things.  We tried feeding him again but he suddenly seemed too weak.  Sadly, he died later that morning.  Mark buried him in the yard with our household pets.
While the baby mouse was fighting for its life, our last ferret, Chip, has been fighting for her life as well.  She's seven years old, and there have been days lately that I wonder what keeps her going.  But what I realized in watching both the mouse's brief life and Chip's willingness to continue wobbling about even when I don't think she can continue on is this:  what's important in life is making the best of the time we have.  That is true with people, with mice, and with Chip.  See, we knew the odds were against the little mouse, but we did what we could to make his time as good as possible.  And for our old pal, Chip, we will continue to spoil her `til the end.
Day 8 started out sunny and clear, which made for a hot day on the river.  I took covering up to a new level.  
After a good breakfast with two aspirin on the side for my puffy hands and feet, we went upstream and started fishing.  Prato pointed to a tight spot between two logs and I cast the red and black ripper lure in that direction.  We were in a 25-foot wide stretch of water and the fish hit like a freight train.  The fish headed right for a log and suddenly stopped moving.  Prato moved the boat closer to the log, and, oddly, the line wiggled.  It felt to me like the fish was on the line.  Prato put on his scuba mask, took the Bogagrip in his hand, slid into the water, and dove down.  He came back up for another breath, went back down and came back up with the fish secured in the Bogagrip and the lure still attached to the fish.  I was in such awe I took a lousy photo. 
 Prato got back into the boat, used the trolling motor to take us to a nearby sandbar and we all got into the water to get the fish off the hook.  Mark said it was an old fish–its rear fin was all chewed up.  I was quite happy to put the old, 12-pounder back in the water.
Just before lunch, we watched a big peacock chasing smaller fish near the bank of the river.  Mark and I both tossed our lures in the big fish's general direction at the same time, about 10 feet apart.  The fish struck at Mark's lure–which was the blue and white lure I'd been using the last few days–but the fish didn't bite and left Mark with a tangled mess of lure and line.  So I cast again and Wham! the fish hit my lure.  I set the hook and heard Snap! as the special peacock bass rod Mark bought me for Christmas broke a few inches above the handle.  I kept on reeling anyway, holding the stub of a rod in one hand and watching with intrigue as the rest of the rod floated on the surface of the water while the fish got closer and closer.  Prato took the boat to shore and I pulled in an 8-pound fish. 
The afternoon was really hot and we drank more bottled water than on any other day.  We returned to camp, reported the day's catch–20 peacock bass–to Bibi.  As we cooled off in the air conditioned dining cabin Bibi asked us to fill out a form that verified to the Brazilian government that we really existed and that Bibi hadn't been feeding Martians all week.  Bibi also gave us a survey and two envelopes for tips, one for the guide and one for the camp staff. 
And that's when Mark and I both went "uh oh."
As we headed back to our cabin, Mark said that he knew about needing to give Prato a $400 tip but did not realize we needed $400 for the camp staff.  We searched our luggage thinking perhaps we'd tucked money away in something for a case like this (indeed, Mark had done that before), but came up empty.  I did a final look in my purse, and for some reason I had my checkbook.  Mark went off to find Curt to see if he had any extra cash and if he'd take a check in exchange for some cash.  Curt showed up moments later with $500 in cash.  I wrote a check to Curt and thanked him profusely.
After getting our cash tips together, Mark and I created a special box of fishing lures, and took it, Mark's Rapala pliers, Mark's Kevlar glove, and the gloves I'd borrowed from Prato and gave them all to Prato.  Mark said something really nice to Prato in Portuguese, because in response Prato looked shy-like and embarrassed.  Prato shook Mark's hand and then hugged him.  Then Prato hugged me. 
Afterwards, Bibi took photos of everyone. In the photo below, I'm crouched down by the four guys from France.  In the back is Mark, one of the guides, Prato, another guide, three camp staff and another guide.  Kurt is in the orange shirt at top;  Bobby is to his right. 
Dinner consisted of shish-ka-bobs on an open fire with rice and veggies on the side. 
After dinner, we finished packing, something we had mixed feelings about doing.  Physically, I couldn't look any better to apply for an old folks' home.  Mentally, though, I hadn't thought about anything but fishing while we were here.  That intensity, having a few good photos of peacock bass and having been guided by, served by, catered to and bailed out by so many nice people exceeded any expectations I might have had for this trip. 
And unbeknownst to us, the Texans and Brazilians were not done helping us on this trip.