Archive for the 'Family' Category
This is a photo I took of Winston, one of our five-month-old puppies.  He melts my heart every time I look into his eyes.
This is Snickers, our other five-month-old pup.  When he posed next to the bay window, I snapped this photo.  Again, it's the eyes that get me every time!
Thanks for posing, pups!
It's been almost a month now since Mark and I drove from Michigan to Pennsylvania to look at the puppy Mark fell for that we named Winston . . .
. . . and also came home with a pal for Winston that we named Snickers.
I've never had two puppies at one time.  Here's 10 Things I've learned:
Puppies can't tell time. 

Mark is often up between 3:00 and 4:30 a.m. letting the pups out because at some point in the wee hours of the night, Snickers whines to let us know he or Winston has to go out.  I, of course, go back to bed.  See, Mark's a guy, and it's safer for a guy to be outside in the middle of the night, and I have to work most days.  It works out quite well.  Unless you're Mark.

Puppies need special food.  

When we first got the pups home, we set off to buy one of the best puppy foods available.  At one of the four local pet stores we frequent most weekends, we were greeted by a lady with a coupon for Dr. Gary's Best Breed puppy food which we later found at 

http://www.bestbreed.com

.  It's all natural food with no preservatives or anything else that's scary.  We took a bag home and the pups liked it.

Some puppies need really special food.

  Snickers has an underbite and once we fed him some of the new puppy food , we realized that it took a while for him to eat a hard kibble.  So we now take some of Dr. Gary's Pure Breed puppy food, add warm water and some Pet Milk and let it soak. Once the food is all soft, we spoon out several spoonfuls, add some cooked hamburger, microwave the mixed mess, let it cool and put it on the floor for the pups. Snickers has no problem chewing this yummy food.

Puppies need lots of exercise.

  Snickers and Winston will wrestle and play together a lot and we also play with them.  But a nice walk outside gives them more exercise, allows us to interact with them and practice our leadership skills, and it gets them used to being on a leash and walking properly.  Our pups love these walks because they love to sniff and explore.

Two puppies are better than one . . . mostly.

  The only downside of having two pups is that you can't always figure out who caused the trouble–who pulled the roll of toilet paper off the roll in the bathroom, who brought the underwear down from the back room into the living room, and who led the effort to chew up the Ono card game.  Just look at these faces?  Who's guilty of the latest crime? I can't tell.
Puppies need lots to chew on.  So there I was writing at the table, when I felt this strange vibration from the bottom of the table.  I looked down and saw Winston gnawing on the table leg.  I gave him a stern "No!!" got up and found his Kong ball (a rubber gadget with dog treats stuffed inside).
Puppies will explore, cautiously.  Winston and Snickers came from a farm in Pennsylvania where there were no cars, no people walking by, no skateboards, no kids.  We live in a suburban area and every new sound sent the pups scampering back to the front door.  Inside, they ran away from the dishwasher, barked at people on TV and, my personal favorite, barked at Stepkid #2 as she Skyped from Germany.  Slowly, but surely, though, they are getting used to the noises and their yard.
Puppies can be expensive. Our first trip to the vet with Winston and Snickers cost us $519.  It included two examinations, two rabies shots, one eye dye treatment to make sure the scratch Snickers had on his eye did not affect his cornea, two one-year supplies of heart-worm treatment and two one-year supplies of flea prevention.  An hour after the visit, while I was suffering a heart attack due to the money I'd just spent, Winston starting running around rubbing his nose in the carpet and on pillows.  I looked him over and discovered his face was all chubby, his lip all leathery and puffed up.  We rushed off to the MSU Small Animal Clinic and $129 and a shot of  Benedryl later, Winston's reaction to the rabies shot was under control.  On tap in the next month or so:  the need to get the pups neutered and groomed.
Having pals is a good way to go.  Winston and Snickers are very protective of each other and seldom more than a few feet apart.  Yet they're also great pals for Mark and me.
It'll take lots of time and patience to train puppies

–house training, getting them used to leashes, and riding in the car.  Mark works with the pups while I'm at work, and we both work with them in the evening.  It's amazing the time it takes, but it'll be worth it when they are fully trained.  In fact, everything about our pups is worth it if you ask me!
If you know Mark or read Something Furry Underfoot, you probably realize that when it comes to pets Mark is rather uncontrollable–he blinks and another new fuzzy shows up in my house.  So, it probably won't come as too much surprise that Mark went exactly three days without a dog in the house before he went online in search of lasa-bijon puppies, which is what Dusty and Little Dipper were.  On Sunday morning, he found exactly one breeder with such puppies, and he fell immediately for a four-month-old black and white dog named Lucky.  It didn't matter that the breeder is in Pennsylvania.  And it only mattered for 24 hours that the breeder is Mennonite and didn't answer Mark's email on Sunday.  But it was all good on Monday morning when the breeder emailed Mark and said that Lucky was indeed still available.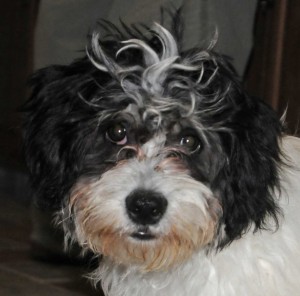 So what is a spouse to do?  Leave work at noon on Monday, drive to Pennsylvania, stay over at a Super 8 motel, eat bar food at a place known for giant hamburgers, and finish driving a dozen gnarly twisty, windy roads the next morning.  We arrived at 9 a.m. on Tuesday at this beautiful farm with free-range chickens and well-pampered pups, including Lucky.  The owner, Erla, was a sweet woman, quite laid-back, and we quickly saw her personality had rubbed off on Lucky, because when she brought Lucky out from the back of this small building, he sprawled out unmoving and looked at us with big brown, very scared eyes. 
So there we were, hundreds of miles from home, looking at a paralyzed puppy that didn't seem to have all his wires attached.  Fortunately, in the background came the yelping, barking noise of other puppies, so Mark mentioned that perhaps Lucky wasn't so lucky and perhaps there was another one we could look at?  Perhaps Lucky had a brother or sister, I asked?  Seconds later, this wiggly, tan and white puppy named Lance was running circles around us. 
And then it happened:  Lance nudged Lucky, and soon the two were romping around the room, wiggling all over, licking our hands, then running off together .  As we watched them play together, Erla mentioned that she'd reduced Lucky's price because he was four months old.  And she said that Lance, who is Lucky's brother, well, his price was reduced even more because of a scratch on his eye.  I looked at Mark, he looked at me and we agreed that because Lucky seemed to need Lance, we couldn't separate them.  So we bought both pups, two collars and leashes, and packed the pups into the car.
Over the course of the eight hour drive home, Mark and I agreed we weren't thrilled with the names given the pups.  We contemplated lots of other names as we rolled along, and rejected all of them:  Whiney and Drooly, Barfy and UpChuck (as both of the pups got sick on the floor), Shock and Awe, and Sleepy and Dopey.  None seemed quite right for our pups.
We were home by 5:30 on Tuesday and soon the puppies were adapting to their new home and their strange new owners. 
Both puppies are doing very well.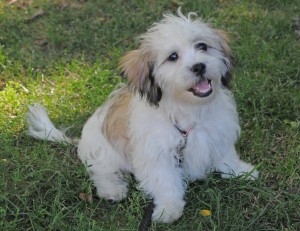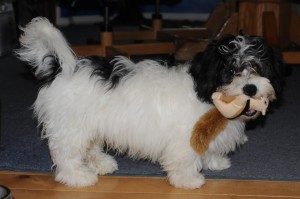 But it's quite sad they don't have names we like, so we need your help.  Simply respond to this blog posting, and if the name you provide for either pup is selected by Mark and me, I'll send you an e-copy or signed paperback of Something Furry Underfoot.  What could be better than that?  Oh, I know, two puppies!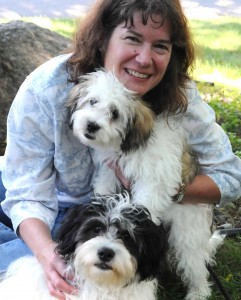 Contest ends September 6.  Thank you!
On July 21 Dusty turns 15!  He's my guard dog and companion, and has been pals to all the other critters that we've had in our house over the years.  And he's so darn cute!
In honor of Dusty's 15th birthday, we not only made a birthday cake . . . 
. . . we also decided to offer free downloads of  Dusty, the Angel Pup, a rhyming photo e-book about Dusty and told from Dusty's perspective.  Just go to Smashwords.com, click on Dusty's book, ADD TO CART and use the coupon code XU89L.  This offer is good through the end of July, 2013.  In return, I'd appreciate it if people would comment about the book on Smashwords and Amazon.  And while you're there, you might also check out my three other photo e-books and Something Furry Underfoot, my humorous, touching memoir about the dozens of pets that we raised over 18 years:  ferrets, hedgehogs, mynah birds, hamsters, two dogs, a cat, a rabbit and more! 
Some proceeds for all my animal books will support animal rescue organizations.
Thanks for helping us celebrate Dusty's birthday!
Today was my first Memorial Day in 50 years without my Dad, and I went into the weekend feeling down and rather lost.  But over the course of the weekend, I found myself watching war movies on TV as I had done with my Dad for as long as I can remember.  And I started feeling a little less down.
As a kid, watching war movies was just something I did with my Dad, especially on Memorial Day weekend.  We'd watch Midway and Sergeant York and anything else we could find.  Early on, I didn't really understand what Dad saw in the likes of The Bridge On the River Kwai, but I did understand that the good guys won and the bad guys lost, and even though some good guys also died, Dad was always content when the movie ended.  The older I got, though, the more I realized there was far more going on:  My dad understood the importance of duty, in part because he had served in the Navy.  My dad understood the sacrifice that was made in each and every war engaged to maintain our freedoms.  And my dad understood that the people in the movies represented all the people who have put their lives on the line for our freedoms.  Without my dad saying a single word, I came to understand these truths, too.
Dad loved all the freedoms we have.  His favorite was the right to bear arms.  He loved to hold guns, shoot guns, talk about guns, and buy and sell guns.  And he loved to carry a gun as our freedoms allow. 
Dad also loved being in the Navy way back when.  In fact, as Dad got older, he wore more and more clothes with Navy insignias on it.  This was one Mark got him.
 My dad got more sentimental about all things American as he got older.  In 2011, we went to  a football game at Spartan Stadium, and the very sight of a gigantic American flag brought tears to his eyes.  The Navy jets flying over made him cry.  Hearing "Anchors Aweigh" turned him into a teary puddle. His pride overfloweth. 
This Memorial Day, as the bridge blew up over the River Kwai on TV again, I thanked my dad for sharing all that movie time with me, and for letting the meaning of our Memorial Days together sink in over 50 years.  Mark and I will keep the tradition going. 
It wasn't until 3:30 yesterday that I found time to get onto my elliptical, and, of course, 15 minutes into my workout, our recently retired professor pal, Kay, rang the doorbell.  Mark answered and the two of them chatted while I finished my work-out.  About two minutes later, the doorbell rang again. I was still sweating, in an orange and gray work-out shirt, baggy black shorts and pink socks when I opened the door to find my stepson, Arthur, holding a giant bouquet of flowers from him and his sister, Holly. He looks great in the photo below, as do the lovely flowers.  I could have used a shower.
 After taking my mom to church today and out to dinner at Olive Garden, I returned home to chat with from my three stepdaughters, calling as far away as Germany.  Then I got a Mother's Day present from Mark.
Now, these are not just any lures. They are endorsed by famous bass fishing master Kevin VanDam.  In fact these lures are KVDJ300s.  The back of the package tells me it was "Designed with the perfect combination of roll, flash and wiggle!"  Oddly enough, I think I was attracted to Mark because he had the perfect combination of roll, flash and wiggle.  So how cool is that?
All in all, a very nice Mother's Day indeed.  I hope all the moms out there had a great weekend, too.
If you are as lucky as me, your stepkids will grow up and still want to come see you during holidays like Easter.  Our Easter started yesterday when all four of the kids showed up, along with Brian, Willi's husband.  We weren't expecting Holly to show up from Montana but Becky donated her frequent flyer miles so all four kids could be with us.
We started our day Saturday sampling a few tiny bottles of alcohol like the ones served on airplanes.  Mark and I found a dozen of these little gems at a store in East Lansing for $1 each.  I went for ones with nifty names like BirdDog blackberry whiskey.  All of the kids suffered happily.
 Afterwards, we went on a peaceful walk in a nearby park.  It's a wooded park where I run when I want to get away from rowdy people . . . like the ones I was with. 
We looked in ponds and under logs for salamanders but probably scared them all away, too.  One of the kids found a vine and swung happily across the trail.
Here's the four kids hanging out on a tree like most kids.
 After terrorizing all walkers and hikers at the park, we went back home and colored eggs. 
Here are some of my favorites. 
Later, my mom joined us for dinner and we watched a movie.  Dessert included pie with ice cream and whipped cream.  Our 14-year-old dog got the last of the whipped cream because it's one of his favorites.
Three of the kids stayed over and looked for eggs this morning.  The Easter Bunny also left some pretty cute things.  This one was left for me.  I've been waiting for one of these for well, I'm not sure how long.
After the kids gathered eggs, found their baskets and ate breakfast, they left to enjoy the rest of Easter at their mom's.  And just like that, Easter was over.
The whirlwind of activity that occurred lasted less than 24 hours.  In its wake was the knowledge that Becky is moving to Germany for 2 years and Holly going back to Montana, and it will likely be Christmas before we'll see them all together again.  So thanks for the great time this holiday, kids.  We appreciate everything you did to make it happen.
Pity the poor stepkid that agreed to take care of our critters while Mark and I are on vacation.  Said critters include:  Dusty, a 14-year-old dog that turtles out on the front steps and is constantly hungry; Purrkins, our 8-year-old cat; Chip, our 7-year-old ferret (which is pretty old for a ferret); 9 hamsters; two boisterous mynah birds; and two fish tanks filled with colorful fish.  The stepkid is Arthur and these are his instructions:
| | |
| --- | --- |
| By 9:00 a.m. | Let Dusty out and back in |
|   | Shut 2 doors behind you, open bird cage |
|   | Open curtains at window |
|   | Check on all hamsters |
|   | Shut both doors behind you |
| By 9:15 | Feed  Dusty |
|   | Feed Purrkins |
|   | Let Dusty out and back in  |
|   | Check on Chip–take her out to play? |
| Around 11 a.m. | Let Dusty out and back in again; give kibbles |
| Around 2 p.m. | Got to bird room.  Shut door behind you. |
|   | Remove big water bowls and latch-on bowls |
|   | Shut bird cage doors |
|   | Clean bowls |
|   | Fill water bowls with osmosis water only |
|   | Shut both cage doors |
|   | Prepare birdies' food in latch-on bowls |
|   | Put latch-on bowls in cages |
|   | Close cage doors |
|   | Add dry food as needed |
|   | Close cage doors; leave room |
|   | Shut both doors behind you. |
| Around 4 p.m. | Return to bird room.  Open cage doors. |
|   | Wait for bird to go in.  Shut and lock cage doors. |
|   | Shut both doors behind you. |
| Around 4 p.m. | Let Dusty out and back in again; give kibbles |
| Between 4:30-6 | Feed Dusty |
|   | Let Dusty out and back in again |
| At 6 or 7 | Go into bird room.  Pull down blankets.  |
|   | Shut curtains. |
|   | Double check all hamster cages.  Fill bowls. |
|   | Clean any poopy areas after putting hamster |
|   |      in balls.  Check water bottles. |
|   | Shut both doors behind you. |
|   | Turn lights on big fish tank. |
| Around 8 or so | Feed fish in both fish tanks. |
|   | Top off Purrkins' two bowls |
|   | Check on Chip; play if not played with earlier. |
|   | Refresh Chip's bowls while she's in the back |
|   |    bedroom area.  |
|   | Empty Chip's poop pan. |
|   | Empty Purrkins' poop pan. |
|   | Let Dusty out and back in again. |
| Before 10:00 | Let Dusty out and back in again. |
|   | Turn off fish tank light |
Oh, and please feed the sea monkeys (brine shrimp) once or twice while we're gone.  And bring in the mail now and again.  And the trash goes out on Tuesday mornings.  And Dusty would appreciate your shoveling any snow off the front porch.  He also likes daily rub-downs and….  Okay, you'll do fine.  Oh, and about the outdoor critters we feed….
Since the news is always filled with sad stories about evil doers and greedy people, when I heard recently of the death of a really good person, I had to blog about it.  Her name is Lynn Grimes and she's one of those people that seemed to carry sunshine on her shoulders and in her eyes.  She was the bubbly Christian Education Director at Okemos Community Church during my formative years in high school, and took a group of pretty rowdy kids—my friends—and taught us about biblical matters.  That's no easy task, because a lot of kids that age aren't necessarily into religion.  But with stories, songs and activities, Lynn made it all fun.  Lynn also kept me in the church choir, got me to love the hand bell choir, and helped me survive being in two musicals–Godspell and Jonah the Tale of the Whale.
Lynn also took us on special trips.  I recall one camping trip where she got us to move an entire giant pile of firewood from one location to the other, then led us in songs around the campfire, after which we watched movies—black and white ones like Creature of the Black Lagoon and Them.  Between bits of work and fun, we talked about Biblical matters in a way that young adults could relate to.  And because we could somehow relate to Lynn, we could ask Lynn just about anything, which, during those teenage years, meant a lot.  Lynn was such a trusting, good leader that if she'd told us to move the entire camp, we would have done that. And cheerfully.
After I graduated from high school Lynn completed her seminary classes in Chicago, which meant spending three days a week in Chicago attending classes, and then driving back home to her husband and boys in Michigan.  That takes a supportive husband, which Kip was.  He also was the bus driver on our camping trips.  (And a fellow state employee, I might add.)
After completing her seminary work, Lynn became an associate pastor in my home town of Okemos, and later, a senior pastor in Grand Ledge and in Holt.  She also became a district supervisor.  Between all those churches and all those activities, well, just imagine the number of lives she touched. 
Eighteen or so years ago, Mark and I asked Lynn to officiate our wedding.  During the rehearsal, Lynn guided us like a music conductor, and she led a beautifully orchestrated wedding.  About three years ago, I ran into Lynn at a Lansing area eye doctor's office and she was her usual upbeat self.  She inquired about each member of my family by name. 
Last week a co-worker told me she'd seen Lynn in the hospital over the Christmas holiday, just after Lynn underwent surgery for a brain tumor.  In spite of her condition, Lynn waved at my co-worker, smiled and wished her well.  Lynn passed away just weeks later.
Thank you, Lynn, for all the sunshine you brought into our lives.  And thank you, Kip, being a great husband of 47 years, always there at Lynn's side.  You were both great mentors to a bunch of rowdy high school kids, who—based on the ones that showed at the funeral anyway—seemed to turn out pretty well.  Not surprisingly, when we got together yesterday at Lynn's funeral, we all broke out in song.
Mark and I are heading to the Amazon in February to go peacock bass fishing, and before Christmas Mark found a guy named Raymond "Dink" Alston who makes Goldrush custom rods.  Amongst Dink's special rods is a 6'2″ Woodchopper heavy-duty action rod that he recommends for peacock bass fishing.  Per Mark's request, Dink added a peacock bass, my name, the date, and he did the wraps in green and white.   
Mark also got me another special present.
Of course, having seen the fishing rod, I thought the salt and pepper shakers were custom-painted, when in fact Mark took a Sharpie marker and wrote our names on them.  But who does cute things like that?
Mark also didn't care when Dusty, our 14 1/2 year-old dog, stole his stocking topper.
And finally, I know Mark's the right guy for me because he figures out how to make me laugh every holiday.   Not that I laughed when I took the photo below, but I might have shortly before or after.
So thanks, Mark, for being the right guy with the right ideas year after year.