About Me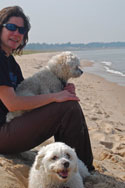 Amy L. Peterson is a happily married wife, stepmother, author, amateur photographer, outdoorswoman and keeper of numerous spoiled fuzzy animals. Her writing is diverse, her photography of animals and wildlife unique, and her pets have trained her how to get what they want.
Amy met Mark at the Michigan Department of Natural Resources in the early 1990s and married him after he carried a rubber raft, oars, foot pump, camping gear, and fishing gear to 10,000 feet while backpacking in Montana. In addition to his prowess, Amy was attracted to Mark's limitless supply of fishing tackle, and his interest in every kind of critter. The fact that he came with four children was something she remained in denial about for many years.

Amy summarized just some of the fun of entering into instant stepmotherhood in From Zero to Four Kids in Thirty Seconds. This humorous, entertaining book includes over 70 tips for stepmothers and women thinking about taking such a plunge. These tips are tried and true since all four of Mark's children survived their time with Amy. Amongst the kids is one social worker, one mechanical engineer, and two college graduates working on the next stage of their lives.
Between bouts of being a wife and stepmother, Amy spends way too many hours photographing and writing about wildlife. Her publications and photos have appeared in Grit, Moxie, Montana, Travel Impulse, Women's World, Bonaire Nights, and Pacific Coast Sportfishing. Her article about Nunavet wildlife was featured on the Nueltin Lodge web page, along with a photo of a monstrous pike she claims to have caught.  Her article about peacock bass fishing in the Amazon was published on a local travel web site.
Amy has also co-authored numerous technical documents for the State of Michigan, all of which are really quite boring. Her favorite past time is writing mostly true stories of the various animals she's spoiled or encountered in the wild.
Her book Something Furry Underfoot tells of her haplessly raising all sorts of animals Mark always wanted, including frogs, iguanas, African pgymy hedgehogs, hamsters, gerbils, mice, dogs, and well, Amy was responsible for the stay cat, rescue rabbit and domestic duck.  To share the story of some of these critters with kids, Amy wrote four photo books.
Her blog, Natural Wonderings, combines both writing and photography to explore issues such as why some birds have really stupid names, why fishing terminology is so confusing, and why a labradoodle is a cute, expensive mixed breed of dog while a beagle-tzu is simply a mutt that barks, eats garbage and struts with its head held high. Amy also uses her blog to promote her books.
Contact Amy
E-mail