Farewell to the Special Fuzzy Friend That Picked Me
Back 13 years ago, my criteria for picking out a pal for our male dog, Dusty, was pretty simple–I wanted a female, bijon friese-lhasa apso mix, and she had to lick me to indicate she licked me.  This is the puppy that picked me. 
 Little Dipper and our first puppy, Dusty, got along from the get-go.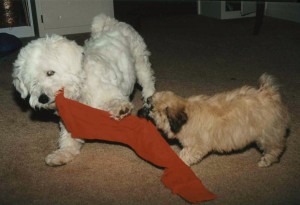 And Little Dipper was also my pal.  She figured out right away that if she wiggled just so, I'd take her for a walk.  It worked every day, including Tuesday, the day she died. 
Outside, Dipper liked immersing herself in the snow.
She also loved to swim.
And she liked to play on the beach.
If she got cold after swimming, I was always there to get her warmed up and just be with her.
Little Dipper was also my traveling pal.  Every time I picked up my car keys, she was at my heels, ready to go.  One of our regular jaunts together was to McDonalds on weekend mornings when I ordered one sausage biscuit and one sausage patty for the dogs.  Little Dipper became a bit of a celebrity at the drive-thru.
At home, she liked belly rubs, which she trained Mark to do by simply flipping upside down on the couch.  And she liked to snuggle amongst the pillows and blankets.
She also loved to soak in the sun.
She also had a way of letting me know when she didn't like something.
Some say that Little Dipper was spoiled.
But the fact is, Little Dipper simply wiggled her way into the heart of everyone who saw her.   
Last night, a stroke led to her quick departure.  The hole she left in my heart is huge.  I will miss my walking pal, my traveling pal, my McDonald's pal, and the little puppy that first licked my face to tell me she was the one for me.  May she run across the heavens and may belly rubs be waiting for her afterwards.
5 Responses to "Farewell to the Special Fuzzy Friend That Picked Me"