Eulogy for my 76-year-young father
Alden Lloyd Peterson, herein known as "Pete," was born on July 22, 1936, in Philadelphia, Pennsylvania. He was the son of Alden William Peterson and Janet Todd Chalmers and was the second of three sons. His brother, Thomas, beat him to this world by 2 years, and his brother, Roy, followed 5 years after Pete.
Pete had a pretty enviable childhood and was raised in a time in the south when hired help was a privilege of the privileged. He was given his first gun—a Marlin .22—as a boy and he and his brother, Thomas, used to spend their days shooting cans and having match fights, which—for those who've not had match fights–is where you take one of those long kitchen matches, light it and throw it at the other guy. After one particular match fight, Pete slid down a concrete wall and the leftover matches in his front pocket caught on fire. Thomas pointed out the river below and Pete jumped in to put the fire out. On their way home, their mother happened by in their car and when she picked them up she said something about smelling burnt matches. Pete and Thomas both just shook their heads and shrugged.
Pete was moved around a bit when he was a kid, with homes in Alabama, Ohio and Illinois as his father changed jobs. He took to sales early on, selling eggs produced by the family chickens. The first gun he purchased for himself was after graduating from third grade. Pete commented that back then, nobody noticed a young boy walking home with a Winchester .22 rifle. He was also given a gun by Dr. Lloyd Nolan, a respected physician in Alabama, which is where Pete's middle name came from.
Pete graduated from a high school in Illinois that had an indoor shooting and archery range. Shortly after he graduated, he enlisted in the Navy to take advantage of the GI bill. He loved his time in the Navy, in part because he felt he belonged and because he could travel the world. He became a second class petty officer as a radar man/seaman.
After three years in the Navy, Pete became a Michigan State University Spartan, and anyone who knows Pete knows what a Spartan fan he was.
After he graduated from MSU, he got a job with International Harvester and married his first wife, Suzi. They had three children to whom he passed on important terms—like oogie dust being the stuff at the bottom of a cereal box, and that one is supposed to call "ooga booga" before throwing a spear at one's opponent. He also shared the concept of a "good buddy fee," which Aby recently used when offering to share her room—at Pete's house—for the typical good buddy fee of 25 cents. Pete spent many an hour with the kids making up stories. Aby remembers Pete's stories of the Sod Monster, Parachute Bugs and how corn flakes were made. His military background also came in handy over the years, too. Amy remembers many an evening trying to study for school when the door would open, Pete would smack his mouth, launch a tennis ball into the room, shut the door and go "BANG!" imitating a hand grenade.
 The family also went on numerous camping trips. Lloyd recalls the whitewater rafting trip to Pennsylvania where Dad's Navy background was sure to have come in handy as the captain of the raft. The guides stood on rocks below the rapids and signaled paddlers to paddle left or right or, when things were about to go awry, to hang on. Unfortunately, Pete confused left with right, Aby with Amy and the family bounced off more than a few rocks. After a few rapids, the guides saw the Peterson raft coming and just gave the signal to just hang on.
Pete had an affinity for the color green early on, as documented in one of his baby books. Most of his cars were green, including his first, which was a three-tone 1957 Buick convertible. Most of his other cars were green, including an awful lime green IH Scout with green shag carpeting inside, including on the ceiling.  
 Pete married Norma in 1992 and added one stepdaughter, Tracey.  Over the years, Pete's family grew to include 11 grandchildren which he loved dearly.  Norma and Pete recently celebrated their 20th anniversary. They went on 4 cruises together and enjoyed other travels as well. Norma has been a constant burst of sunshine and energy and was absolutely amazing in caring for Pete.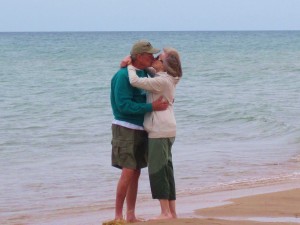 After being forced into retirement from International Harvester, Pete worked at Al and Bob's Sports and Silver Bullet Arms, jobs that he loved because he got to interact with guns and people that love guns.  He got back into skeet shooting, met some great friends whom he competed with and against. And he got into hunting, which Pete defined as "spending quality time in the woods with my gun." Pete was such a gentle guy that he couldn't shoot anything. And apparently animals know this, because two stray cats befriended Pete and they say it wasn't at all hard to do.
One of the most inspiring things about Pete was his upbeat, positive attitude during his illnesses.  As some of you know, Pete's lung collapsed in 2008—in fact 5 times before it was permanently fixed—and it wasn't until a year later—in 2009–that the family learned that the reason for his collapsed lung was because he had mesothelioma. Because many people die within 6-12 moths of being diagnosed with meso, we all thought we had little time left with Pete. After getting over the initial shock, Pete sought treatment. Over the course of the next three and a half years, Pete went through radiation treatment and chemotherapy. He was in and out of the hospital enough to warrant a wing to be named after him. And yet what Amy, Aby and Lloyd found to be absolutely inspiring was that Pete was the one that never seemed down, always maintained a good sense of humor, always found a way to be playful even in the hospital. While receiving chemo once, he noted that he was the "oldest fella getting chemo" and that put things in perspective for him.
Between the Navy, the 5 luxury cruises he went on, and the 1.7 million miles he drove, he touched every continent and saw a lot of the world. He also had a great driving record considering the driving he did—in those 1.7 million miles he hit one deer, one turkey, one porcupine and got rear-ended twice . . . at the same intersection.
But it also behind the wheel that some people saw a different side of Pete. The supporting friend or family member next to you that had the misfortune of driving in the Grand Rapids area was likely called a "bonehead" or a "weenie" for failing to use their turn signal, or for stopping too soon, or for pulling in front of Pete and slowing down. Indeed, Pete had little patience for the bad driver.
Pete's mischievousness is something we all admired about him. While he won his first shooting competition at the age of 11, it was 50 years later that he won his next tournament and he was all about finding the competitive edge. During one of his last tournaments, he pointed out to one of the top competitors that the weather the next day was forecasted to be rainy and cold. The competitor asked why Pete was pointing this out, and Pete said, "Well, if you wimp out, I increase my odds of winning the competition tomorrow." The year 2008 was his best year, and Pete was proud of all the medals and trophies he won while shooting over the years.
 Pete was so competitive he took on anyone at any time. When Willi, one of Pete's grandkids, first played Pete in croquet, she was shocked when Pete took her ball and smacked it 20 yards out of play. She said "Grandpas shouldn't do that!" and he replied with an evil snicker. Pete would bet anyone a quarter on just about anything, from whether the straw wrapper he was blowing across the table would hit his opponent in the eye, to who The Bachelor would give the final rose to during the final rose ceremony.
When it comes to role models, Pete was a good one. He worked until he could no longer. He maintained a good sense of humor even when the chips were down. He was patriotic and proud of being a Navy veteran. And he considered himself blessed to have enjoyed the life he had.
The family would like to thank the men that worked at Al and Bob's Sport and Silver Bullet Arms, for your friendship, for supporting him during his illness, and for keeping his job open at Silver Bullet Arms. These fine gentlemen visited him, donated blood and made green bracelets to show support.
The family would also like to thank all the friends and family members that helped out over the years, especially the years since Pete's lung first collapsed in 2008. Everything you did made his time here better and, in the final months, made Norma's life better as well.
Time is all we're given. We would do well to live our lives and spend our time like Pete did. Pete made the best of the time he had; and he made the times with all the people in this room the best he could.
Pete would have liked this to have ended on a high note, so as you drive home tonight, don't be a bonehead. 
We will miss you, Dad.
2 Responses to "Eulogy for my 76-year-young father"