Giveaways for the Last Days of My Book Tour
Saturday April 28th is the last day of my virtual book tour and to celebrate, I am offering some giveaways.
Starting Thursday, April 26 at this site:  http://mymcbooks.wordpress.com/2012/04/25/virtual-blog-tour-with-amy-l-peterson-from-zero-to-four-kids-in-thirty-seconds/ all you have to do is read the article and leave a comment to be entered to win a paperback copy of my book . . .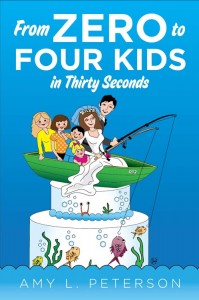 . . . AND a necklace.
On the last day of my book tour, Saturday, April 28, you'll have a chance to win one of five (5) copies of the paperback version of my book at Joy V. Smith's site http://pagadan.blogspot.in/.  After reading the interview that Joy is posting, come back to my site and comment that you're following my blog, liked me on Facebook at http://www.facebook.com/authoramylpeterson and can't wait to read either my book about being a stepmom OR my next book (about animals), and you'll be entered to win!  This giveaway will run through May 15.  Good luck!
7 Responses to "Giveaways for the Last Days of My Book Tour"