It wasn't until 3:30 yesterday that I found time to get onto my elliptical, and, of course, 15 minutes into my workout, our recently retired professor pal, Kay, rang the doorbell.  Mark answered and the two of them chatted while I finished my work-out.  About two minutes later, the doorbell rang again. I was still sweating, in an orange and gray work-out shirt, baggy black shorts and pink socks when I opened the door to find my stepson, Arthur, holding a giant bouquet of flowers from him and his sister, Holly. He looks great in the photo below, as do the lovely flowers.  I could have used a shower.
 After taking my mom to church today and out to dinner at Olive Garden, I returned home to chat with from my three stepdaughters, calling as far away as Germany.  Then I got a Mother's Day present from Mark.
Now, these are not just any lures. They are endorsed by famous bass fishing master Kevin VanDam.  In fact these lures are KVDJ300s.  The back of the package tells me it was "Designed with the perfect combination of roll, flash and wiggle!"  Oddly enough, I think I was attracted to Mark because he had the perfect combination of roll, flash and wiggle.  So how cool is that?
All in all, a very nice Mother's Day indeed.  I hope all the moms out there had a great weekend, too.
Sometimes vacations aren't everything we want them to be.  Consider the one Mark and I took last week.  The plan was fairly simple:  meet up with my cousin in Georgia on Saturday for a few hours, then hook up with Mark's nephew to go fishing for a few days in Alabama, and wrap up the trip visiting several of my Alabama relatives.
While Mark and I waited for Ryan to show up at his own house, we poked around  Ryan's bushes looking for birds.
This is the mother mockingbird about to feed her baby a nice little bug.
What I learned is that police officers don't like snoopers. 
Now, if you haven't been arrested in a while, you might want to note that the back seats of police cars are now made of really hard plastic which makes sitting a thing to do gently. I will also share that the view out the window of a police car isn't as good as a normal car.
After I got the message that poking around bushes isn't a good hobby, we were invited in for some of Ryan's most excellent home-made beer cheese soup.  We also had a chance to look through some family photo albums, including one that belonged to my grandmother, who was also Ryan's grandmother.  In one, I found a photo of our grandmother with a guy she ran off with after she was married to our grandfather.  His name was Billy McDonald, a.k.a. Lt. William C. McDonald, a stunt pilot and member of the legendary Flying Tigers.  I learned about her affair a few years back, and I also knew my grandfather took her back.  But who would keep a picture of the person they had a fling with after they made up with their husband?
With a wee bit of fun family history under our belt, we left Georgia to meet Mark's nephew and fish a pond in Alabama.  To get to the fish pond, we had to go cross-country, which in this case, meant going across a farmer's peanut plantation, because, well, we didn't exactly see where the road went. 
Luckily, the farmer didn't shoot all three of us, allowing us to spend two and a half days fishing the fish pond, which is smaller than the lake in my backyard.
I'd share all the photos of all the big fish we caught, but, well, there weren't any big fish caught.  But we had fun fishing, eating at Hardees and Sonic, shopping each evening at the local Wal-mart (which has a great tackle selection), and relaxing at a condo on a big lake.
Soon we were off to see my relatives.  Now, my uncle was in the hospital, so I didn't take any photos of him, and my aunt didn't want to leave the hospital for lunch, so I didn't take any photos of her, either.  We also had lunch with my cousin, Greg, but I forgot to take my camera.  The only southern relative I got a photo of is with my cousin Janet, who is named after my grandmother but much nicer.  Janet drove us hither and yon around Alabama so we could meet with her brother, mom and dad.
We also spent a little time at Janet's house taking photos of the birds that showed up in the backyard.
Our plans also included having lunch with my Aunt Joyce, but her sister passed away the night before we were to meet for lunch.  Big hugs and lots of love go out to Aunt Joyce. 
Friday morning Mark and I drove home to find four tiny piles of dog poop on our dining room floor, the back door open, a mess of dishes on the counter, and a nearly full cat litter pan.  After cleaning up and firing our animal caretaker, we settled in for a beautiful weekend in Michigan to reflect on our trip. In spite of a lack of photos of some of my relatives, and in spite of the lack of big fish, it was a good trip, and it was great to spend time with family we seldom get to see. 
Coming soon to Amazon and Smashwords is my non-fiction book about a whole bunch of critters Mark brought into our house over the course of 18 years.  Something Furry Underfoot is my story about taking on frogs, iguanas, hedgehogs, ferrets, hamsters, gerbils, mice, guinea pigs, rabbits, a stray cat, two dogs and a domestic duck.  And of course, I knew nothing about any of these critters, except dogs.  In Something Furry Underfoot you will learn important things about all of these animals, including the fact that a male hedgehog will go to great lengths to be with a female hedgehog.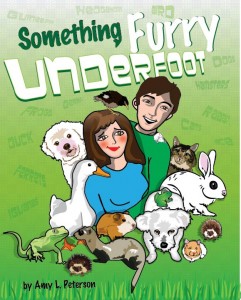 Something Furry Underfoot will be available before the end of May.  Meanwhile, though, I have four photo e-books that rhyme. The photos books were written for kids and are about four of the animals featured in Something Furry Underfoot:
Dusty the Angel Pups, about a puppy that became our guard dog and pal.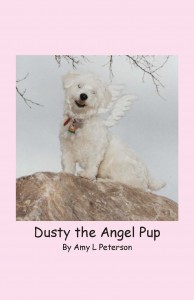 Purrkins, the Cat, about a stray cat that makes it clear we still haven't gotten everything figured out.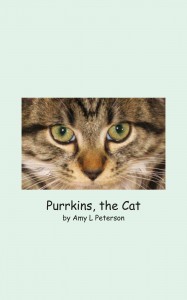 Bumpkin Gets Big, about a domestic duckling we raised inside our house.
Goodnight, Big Wuzzy, about a ferret and his three ferret pals.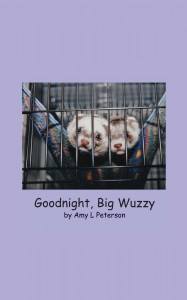 All three of these easy-to-read e-books are available at Amazon http://tinyurl.com/dy73lfj and at Smashwords.com http://tinyurl.com/cyljsux for 99 cents each.  That's a lot of fur and feathers for less than four dollars. 
After 25 years working in an environmental program, I have to say that one of the best things I get to see is the annual celebration of Earth Day at my place of work in downtown Lansing.  For one day a year, we open the doors and allow kids to come inside to learn about what they can do for the environment. 
Around the atrium were posters kids made for Earth Day. 
Inside the building were dozens of booths where kids could interact with turtles, frogs, snakes, and other critters.  Most of the critters were live except this one.
In one of the conference rooms, kids got to touch a sea lamprey.  Some were more excited about this than others.
In another room, kids got to hold a parrot or two.
Docents from the Potter Park Zoo brought in a variety of critters, including a large snake that spent most of its time coiled around itself, and a tarantula that seemed content just to hang out on a lady's hand.
The Potter Park people also brought a blue-tongued skink. I got to touch the skink.
Another nifty creature from Potter Park Zoo was a European eagle owl, which, the nice lady said, is the species of owl seen in Harry Potter movies.  Now, I spent 10 minutes trying to photograph this owl, and most of the time he avoided looking at me. 
Mostly, the owl looked out the window in the opposite direction.  This is the only moment he actually looked right at me.
The Zoo folks also brought a black chinchilla.  He had really soft fur. I wanted to take him home but the lady said no.
Okay, so I'm just like all the other kids that like to interact with critters.  But clearly, it's one of the best things we do each year.  I mean, just look at the smiles. 
Happy Earth Day everyone!
Apparently, I made a couple of people cry with my story about the baby mouse, so I've actually been a bit hesitant to report that the Thursday before Easter our last ferret, Chip, passed away.  Instead of making everyone sad about her passing, I am instead going to share a bit about her 7-year life.
Chip had three other pals to play with for most of her life.  Her pals were rambunctious fuzzies that loved to wrestle, hop around and get into anything within their reach.  They also loved fresh water, which is why we put a small container of fresh water in our bath tub.
Because ferrets like tunnels and holes, we got boxes, cut holes in various places, and threw a blanket on top. 
The ferrets got out to play for an hour or so each day.  It was like having a bunch of two-year-olds to supervise.
Anything on the floor or within climbing reach was worth checking out–house plants, cupboards, clothes, anything.
Even an empty box is of interest to a ferret.
Sadly, Hoppie, Smiggles and Peanut only lived about five years.  That left Chip without any ferrets to play with for the last two years of her life.  Mark and I became her play pals.  We rearranged old boxes, found new boxes, and played with her.  We also made sure she continued to have access to fresh water in the tub.  She also got to take over the spare bedroom. 
As Chip got older I discovered two modes of transportation so she could cover more ground inside the house.
During her last months, she found a ride in the dogs' folded bed cushion even more comfy.
On the weekends, I let her spend the entire day outside her cage, in her bedroom and in the bathroom.  We'd play for a while, and when she was tired, she made a nest out of our clothes. To get her access to new smells and sights, I carried her more and more in the box and dog bed, stopping in front of plants, in front of Dusty or Purrkins, stopping by anything that was new or might smell different. 
When chewing became difficult, I soaked her food in water.  When she got too weak to get into the bath tub I put the water dish where she could walk to it.  Every day, I gave her a little rub-down.  Most days I carried her around the house so her world was not confined to a single room.
 Chip died in her sleep snuggled up in one of my old sweatshirts.  It was a pleasant a passing as I could hope for.
While Mark and I had 8 ferrets over the years that were all lots of fun, and all unique, there are other small, bouncy fuzzies that we haven't opened our house up to, like chinchillas.  Mark would like to try more rabbits.  Time will tell what bouncing fuzzy enters our lives next.  For now I can only think that it will be hard to beat a fuzzy like my pal Chip.
If you are as lucky as me, your stepkids will grow up and still want to come see you during holidays like Easter.  Our Easter started yesterday when all four of the kids showed up, along with Brian, Willi's husband.  We weren't expecting Holly to show up from Montana but Becky donated her frequent flyer miles so all four kids could be with us.
We started our day Saturday sampling a few tiny bottles of alcohol like the ones served on airplanes.  Mark and I found a dozen of these little gems at a store in East Lansing for $1 each.  I went for ones with nifty names like BirdDog blackberry whiskey.  All of the kids suffered happily.
 Afterwards, we went on a peaceful walk in a nearby park.  It's a wooded park where I run when I want to get away from rowdy people . . . like the ones I was with. 
We looked in ponds and under logs for salamanders but probably scared them all away, too.  One of the kids found a vine and swung happily across the trail.
Here's the four kids hanging out on a tree like most kids.
 After terrorizing all walkers and hikers at the park, we went back home and colored eggs. 
Here are some of my favorites. 
Later, my mom joined us for dinner and we watched a movie.  Dessert included pie with ice cream and whipped cream.  Our 14-year-old dog got the last of the whipped cream because it's one of his favorites.
Three of the kids stayed over and looked for eggs this morning.  The Easter Bunny also left some pretty cute things.  This one was left for me.  I've been waiting for one of these for well, I'm not sure how long.
After the kids gathered eggs, found their baskets and ate breakfast, they left to enjoy the rest of Easter at their mom's.  And just like that, Easter was over.
The whirlwind of activity that occurred lasted less than 24 hours.  In its wake was the knowledge that Becky is moving to Germany for 2 years and Holly going back to Montana, and it will likely be Christmas before we'll see them all together again.  So thanks for the great time this holiday, kids.  We appreciate everything you did to make it happen.
One evening recently I went to the bottom of my basement stairs to move some laundry when I found a baby mouse on the floor.  Now, you might wonder, as I did, why there was a baby mouse on the floor, but that was only after I wondered if he was alive.  I called Mark, who came bounding down the stairs, picked the little mouse baby up and announced that it was alive, but barely.  We took a moment to poke around the basement to see if there were any other babies and found one more lying on its side under some empty corn bags, dead.  Later, we found a mouse nest inside of an old pair of Mark's waders.
At the time, though, there was a baby mouse to take care of.  Mark got a drop of water on his finger and watched the baby drink.  He said that she needed some milk, and that our milk wasn't as good for it as canned milk, preferably with vitamins in it.  You'll find it a Meijer in the baby food section, he said.
While I ran off to Meijer to pick up $15 worth of supplies for a mouse who refused to tell me what it preferred to drink, Mark gave the wee mouse a drink using a little eye dropper.  
 Mark also gave the mouse a Cheerio and held the little thing in his hands to keep it warm.  And unfortunately for me, he also looked for information online about baby mice, because when I returned with my bag of goodies, he shooed me back out the door to pick up KMR kitten formula, which was recommended on some web site about mice.
I returned with powdered kitten formula, added some of the powdery stuff to some water and handed the mixture to Mark.  He used a paint brush to feed the mouse because he said it was better than the eye dropper.
I found the little thing so cute I had to include the above photo zoomed in a bit more. 
Once the little mouse was fed, I dug out one of a half dozen empty aquariums in our garage and added a hot rock–a plastic rock-shaped gadget that you plug in to create a type of hot pad for mice and the like.  We also added some of the mouse nesting materials we found in the basement and a milk jug cap with some oatmeal mixed with kitten milk. 
Mark fed the little mouse several times before he went to bed at 11 p.m., and at one point, the little mouse wobbled around inside the aquarium for a bit before disappearing inside the mouse nest.  Mark got up at 3 a.m. to feed the mouse again, and he said all signs were good that the little fella would make it.  But at 6 a.m., our little mouse pal had a faraway look in his eyes as if he wasn't so sure about things.  We tried feeding him again but he suddenly seemed too weak.  Sadly, he died later that morning.  Mark buried him in the yard with our household pets.
While the baby mouse was fighting for its life, our last ferret, Chip, has been fighting for her life as well.  She's seven years old, and there have been days lately that I wonder what keeps her going.  But what I realized in watching both the mouse's brief life and Chip's willingness to continue wobbling about even when I don't think she can continue on is this:  what's important in life is making the best of the time we have.  That is true with people, with mice, and with Chip.  See, we knew the odds were against the little mouse, but we did what we could to make his time as good as possible.  And for our old pal, Chip, we will continue to spoil her `til the end.
On day 8 I took the last of my aspirin with breakfast to try to reduce my puffy hands, elbows and feet.  Mark was also out of aspirin.  We weren't concerned, though, because we'd be in Manaus in a few hours and could get some more. If only that had turned out to be true.
We loaded our luggage into our guide's boat and rode a half hour to a wide stretch of river.  The float plane arrived shortly and we were soon loaded up and heading down the river.  
 I noticed that the pilot of our plane had braces and looked to be about 20, and then I noticed that he and the co-pilot were both pumping the main controls–the yoke–on the airplane up and down as we headed down the river.  It was as if they were trying to get air under the plane to help get us off the water.  Their efforts created waves, and for a moment we were rocking up and down as we accelerated down the river.  I watched as the yoke went up and down and the airplane bounced up and down and suddenly I felt my butt pucker when we ran out of straight river and the plane seemed to slide sideways as we went around a bend in the river.  My heart lurched in my chest as the pilot pulled up on the yoke . . . and took us over the trees and into the air.  Phew!
A half hour later, we landed on a narrow landing strip in the small, well, not exactly town, of Santa Maria. 
 Our camp host, Bibi, had told us that Curt, Bobby and the four French guys were booked on the first plane to Manaus, and Mark and I would be on the next plane to Manaus about an hour later.  We said good-bye to Curt and Bobby and followed two Brazilians down a two-track to an outdoor pavilion of sorts, attached to a couple of apartments.  On the way, we passed a group of black vultures.  Seeing them gave me this really weird feeling.
 A guy named Andre from River Plate Anglers introduced himself, offered us a seat, and soon we were roasting in the shade and surrounded by school kids who happened to have the day off.  Mark enjoyed showing the kids some of our photos.
At around 9:30 we were joined by several Russians who had just gotten to Brazil and were not yet used to the heat.  One Russian pulled out a bottle of run and needed a glass to drink it with.  He asked one of the English-speaking Russians to talk to Mark in English, who asked a local person in Portuguese if she would get a glass.  While the one Russian was getting a glass, another Russian kept putting ice cubes on his head, and a  third walked up to us with a DVD to share information about world class salmon fishing in Russia that only costs $25,000.  We politely told him that we could catch big salmon in Michigan and for a lot less money, but thanks.
We hadn't been sitting around long before a guy from River Plate Anglers came riding up with a cooler full of water and beer. 
I took a bottle of water and wandered around town to find birds.  In one hour I added a groove-billed ani,  Great kiskadee, and this tropical kingbird to my list of new birds.
I also had time to see a blue-gray tanager, swallow-tail kite and this bird, a hooked-bill kite.  One of the local guys pointed out the hooked-bill kite way up in a tree and I followed him across someone's yard to see it.  Indeed, the highlight of my day was going off with a stranger and trespassing!
An hour passed and then two, and at first we were told there was "No problemo," but when the pilot of our plane showed up under the pavilion to hang out with us, we knew there was indeed a problemo.  The Russians asked Mark what the trouble was and Mark tried to ask the pilot in Portuguse and relay what he knew–which wasn't anything–back to the Russians.  The morning faded into early afternoon, and the local people cooked up a fish and rice for us for lunch.  One of the women also loaned me the key to a tiny apartment so I could a bathroom where flushing the toilet resulted in a small frog doing a lap around the bowl.  The men, meanwhile, wandered off down the road somewhere whenever Nature called.
It was noon at this point, and there was no way we'd catch our flight from Manaus to Miami. But that was okay, there was a later flight out of Manaus to Miami at 11:55 p.m.   Surely we'd catch that plane.  And no worries, we had plenty of water.
By about 1:15, we were told our plane had arrived, so we wandered back to the landing field.  Sure enough, our plane was there, but we had to wait for the rest of the passengers.  Only three of the 9  passengers we were waiting for had arrived.
One of the three passengers told us that the plane that dropped us off at the air field that morning–the plane flown by the 21-year-old–had flown off to another camp to pick up 9 guys from California, and upon taking off, didn't quite clear the trees and trimmed a 4-foot chunk off one of the wings.  Here's what that might have looked like.
Nobody was hurt when the wing got trimmed, but the 21-year-old pilot wisely called in a new plane and new pilots and those pilots were taking the Americans off the river in batches of 3.  With only three of the 9 guys present, that meant we got to spend another 1.5 hours standing on the landing field waiting for the other plane to arrive two more times.  My puffy feet and ankles did not appreciate this too much, but it was really okay because we had an endless supply of water, thanks to this guy.
And I  discovered that if I walked down the road 1/4 mile, I could take a leak just about anywhere.
At 3:30 we finally got onto our airplane with all 9 of the Californians.   Andre had arranged for me to be co-pilot which was nifty until I realized that on our other flights, there was always a real co-pilot.  I knew nothing about flying, which caused me to sweat even more.  And speaking of sweating, the pilot's nose was dripping beads of sweat like a leaky faucet as he went through his checklist and got the plane turned around.  I watched everything he did, and took mental notes as he turned around, checked his checklist again, punched this button, adjusted that, pushed up on the yoke and got us into the air. 
I continued to pay attention to everything the pilot did and after about a half hour I noticed that he was filling out his log and other paperwork! 
To his credit, the pilot was mostly attentive to what was going on, kept the plane level, talked to his pals on the radio now, used his checklist before he landed and got us safely into Manuas around 5:30.  There, we were met by John who guided us to a van and told us he had secured tickets for us on the 11:55 p.m. flight.  We headed by van to the Tropical Manaus motel but soon came to a complete standstill because of the Brazilian festival. 
We sat for 20 minutes going nowhere before we turned around in the 3-lane street and drove another, longer way to the motel.  It was 7 p.m. when we checked in, meaning the usual 25-minute ride from the airport to motel had taken 1.5 hours.  We showered, ate a burger and fries with a few of the guys who'd been in the damaged plane, and met John at 10:00 p.m. for the ride back to the airport.  There, Curt gave me a dozen more aspirin.  So, let's take a moment to summarize:  during this trip two guys from Texas we'd never met before had given us Imodium, duct tape, fishing lures, aspirin, and $500, and they'd escorted us back to our cabin several nights because we seldom remembered to bring our flashlights to dinner.  Those are great people.
As Curt and Bobby headed to the line with the other lucky people who had airplane tickets, John, Mark and I went to the American Airlines line to learn that we did not have tickets after all.  Then we were told the plane was full.  A half hour went by and Curt came back from the gate just to say good-bye.  His plane–which Bobby was also on–left at 11:55 p.m.. 
The American Airlines counter closed at 11 p.m., so we stood in line at TAM to try to get plane tickets on TAM, to no avail.  We returned to the motel at 2 a.m. empty handed and checked into another room . . . with two twin beds.  John wrote his name and phone number on a piece of paper and suggested we call him in the morning.  The name he wrote down: Dion.  Not John.  In fact, Dion is his real name, he just never corrected us because he's just that kind of guy.
Mark and I woke at 7:30 the next morning, had breakfast and called Dion.  He was back in line at the airport trying to get us tickets but had nothing just yet.  He called back an hour later and said we were on the 11:55 p.m. flight.  That meant Mark and I had to suffer the day at the motel, walking the grounds taking photos, and swimming in the pool.  I looked classy with my bathing suit top, zip-off shorts, and two pieces of black duct tape on my puffy, blistered feet. 
Admittedly, though, the hardest part of the day was deciding exactly how many tiny desserts to have for dinner.
Our room and meals were courtesy of River Plate Anglers, and for that we are very grateful. 
At 10 p.m. we met Dion in the lobby, rode back to the airport, and got on the 11:55 p.m. flight.  Mark and I arrived in Miami at 5:35 in the morning on some day.  We were so unsure what day it was, we had to check our passports.  It was Monday, February 11, one full day behind schedule.  We had an 11:35 a.m. flight to Detroit and were back in Lansing by 5 p.m.  After I made a few phone calls–includng one to my boss to ask for another day off–I wrote an email to Curt and Bobby:
 Still stuck in Manaus.  Could use some more Band-Aids, duct tape, aspirin, Imodium, and cash if it's not too much bother?  Oh, and a flashlight we might actually use? 
Seriously, Mark and I got home about an hour ago.  We wanted to tell you how much you guys made our trip and how much we appreciate everything you did for us. Thank you for keeping us afloat in so many ways. 
We hope you guys had a good trip home. We'll follow-up when I get some of my photos online.
Amy
We exchanged a few emails with Curt and Bobby and in one Curt said that the flight we didn't get tickets for–the flight he and Bobby were on–had a few empty seats.  Go figure.
Within days of our return, Mark had a fishing pole ordered to replace the one I broke on the river.  Within a week the first of many lures like the ones the French guys used showed up in our mail box.  Within 10 days the puffiness in my hands, elbow and feet were gone.  Within three weeks Mark was recovered from a cold he picked up on the airplane ride home.  And within a year we are hopeful we will get to return to the Amazon to tangle with peacock bass once again, because it was an amazing experience. 
Of course, Mark is seeking a new fishing partner now because I've caught bigger fish than him 2 of the last 3 trips.  Poor thing.
Day 8 started out sunny and clear, which made for a hot day on the river.  I took covering up to a new level.  
After a good breakfast with two aspirin on the side for my puffy hands and feet, we went upstream and started fishing.  Prato pointed to a tight spot between two logs and I cast the red and black ripper lure in that direction.  We were in a 25-foot wide stretch of water and the fish hit like a freight train.  The fish headed right for a log and suddenly stopped moving.  Prato moved the boat closer to the log, and, oddly, the line wiggled.  It felt to me like the fish was on the line.  Prato put on his scuba mask, took the Bogagrip in his hand, slid into the water, and dove down.  He came back up for another breath, went back down and came back up with the fish secured in the Bogagrip and the lure still attached to the fish.  I was in such awe I took a lousy photo. 
 Prato got back into the boat, used the trolling motor to take us to a nearby sandbar and we all got into the water to get the fish off the hook.  Mark said it was an old fish–its rear fin was all chewed up.  I was quite happy to put the old, 12-pounder back in the water.
Just before lunch, we watched a big peacock chasing smaller fish near the bank of the river.  Mark and I both tossed our lures in the big fish's general direction at the same time, about 10 feet apart.  The fish struck at Mark's lure–which was the blue and white lure I'd been using the last few days–but the fish didn't bite and left Mark with a tangled mess of lure and line.  So I cast again and Wham! the fish hit my lure.  I set the hook and heard Snap! as the special peacock bass rod Mark bought me for Christmas broke a few inches above the handle.  I kept on reeling anyway, holding the stub of a rod in one hand and watching with intrigue as the rest of the rod floated on the surface of the water while the fish got closer and closer.  Prato took the boat to shore and I pulled in an 8-pound fish. 
The afternoon was really hot and we drank more bottled water than on any other day.  We returned to camp, reported the day's catch–20 peacock bass–to Bibi.  As we cooled off in the air conditioned dining cabin Bibi asked us to fill out a form that verified to the Brazilian government that we really existed and that Bibi hadn't been feeding Martians all week.  Bibi also gave us a survey and two envelopes for tips, one for the guide and one for the camp staff. 
And that's when Mark and I both went "uh oh."
As we headed back to our cabin, Mark said that he knew about needing to give Prato a $400 tip but did not realize we needed $400 for the camp staff.  We searched our luggage thinking perhaps we'd tucked money away in something for a case like this (indeed, Mark had done that before), but came up empty.  I did a final look in my purse, and for some reason I had my checkbook.  Mark went off to find Curt to see if he had any extra cash and if he'd take a check in exchange for some cash.  Curt showed up moments later with $500 in cash.  I wrote a check to Curt and thanked him profusely.
After getting our cash tips together, Mark and I created a special box of fishing lures, and took it, Mark's Rapala pliers, Mark's Kevlar glove, and the gloves I'd borrowed from Prato and gave them all to Prato.  Mark said something really nice to Prato in Portuguese, because in response Prato looked shy-like and embarrassed.  Prato shook Mark's hand and then hugged him.  Then Prato hugged me. 
Afterwards, Bibi took photos of everyone. In the photo below, I'm crouched down by the four guys from France.  In the back is Mark, one of the guides, Prato, another guide, three camp staff and another guide.  Kurt is in the orange shirt at top;  Bobby is to his right. 
Dinner consisted of shish-ka-bobs on an open fire with rice and veggies on the side. 
After dinner, we finished packing, something we had mixed feelings about doing.  Physically, I couldn't look any better to apply for an old folks' home.  Mentally, though, I hadn't thought about anything but fishing while we were here.  That intensity, having a few good photos of peacock bass and having been guided by, served by, catered to and bailed out by so many nice people exceeded any expectations I might have had for this trip. 
And unbeknownst to us, the Texans and Brazilians were not done helping us on this trip.
Day 7 began with a brief, heavy rain which turned into light showers on and off during the day.  Such is not generally good for fishing.  But the fact was, Mark had the biggest fish so far and that bugged me.
I went without socks today and used some of Curt's duct tape on my feet to deal with my blisters.  My daily routine:  apply fresh Band-Aids on my elbow from my boneheaded fall in the boat earlier in the week, apply duct tape on the blisters on my hands and feet, and pop aspirin twice a day to help with my puffy appendages.  How cool is that?
As expected, the fishing was slow due to the rain we'd gotten over night. We tried several different lures but always went back to the custom-made black and red ripper and the blue and white lure from Bobby.  Rain stopped in the early afternoon and we got to a lake-like area with several small bays.  We saw some big fish roaring around and Mark, using Bobby's lure, got a big hit by a big fish.  The big fish broke Mark's line and the blue and white lure disappeared again.  Prato tied a different lure onto Mark's line while I continued flogging the same area with a red and black ripper.  We got no hits in that spot again.  Amazingly, though, as we're going around a small inlet, Prato saw the blue and white lure floating in the water.  The big fish had rubbed it off and it floated to the surface!  This time, the back hook was missing and the split ring gone and the whole thing a mess.  Prato repaired the lure by sacrificing a hook from another lure and I was back in action again.  The lure had 3 different hooks on it—one original and 2 replacements. 
While fishing the big lake I got a little too close to shore.  The snagged lure caught the attention of a caiman, so I had to reel slowly and not wiggle the lure.  Prato motored us closer, the caiman swam off and I got the lure back again.  Phew!
Later, I aimed for shore a bit more accurately and my lure was smacked hard.  Soon I had landed a 12-pounder. 
Mark still had the bigger fish, though, so I worked my lure again and again.  Later in the afternoon, we saw lots of splashing at a peninsula where a big peacock was chasing smaller fish.  Mark threw his red and black lure to the left of the peninsula, and when no fish hits his lure, he told me to cast to the right.  And wham! I got a 15-pound peacock bass!
We ended up with only 17 fish, but I was pretty happy to have surged into the lead with the biggest fish.  We were also happy because as we were leaving the area , we found Curt's red and black ripper floating on the water and retrieved it for him.  He was very excited when we gave it to him at dinner. 
The other good news of the day:  it was the first day I had no trouble with my lower right back, even after ripping lures all day.
Somewhere along the line, Mark caught a species of fish we hadn't seen before.  Only after searching the Internet from home later did Mark identify this as a bicunda.
I was so tuned into fishing that it was Prato that pointed out a woodpecker, one I later identified as a female chestnut-colored woodpecker.  
I also saw a female giant cow bird, a swallow-winged puff bird, and a white-necked heron. 
I also took a photo of a yellow-billed tern taking on a much larger large-billed tern.  
On the way home, we came upon this fella, who was delivering food and bottled water to our camp.  He showed up at camp about an hour after we got back.
It turned out camp had been moved downstream while we were fishing.  They moved camp because the river had been falling every day in spite of a bit of rain, and the closer the camp was to bigger water, the better.  We took photos of the new camp site. 
We ate dinner and returned to our cabin–escorted by the Texans again–to find 6 wasps.  The camp staff had opened the windows when they moved the camp down the river today and for some reason our cabin had attracted the wasps.  Now, I'm allergic to bee stings so such an encounter was one of the very things I had most worried about.  And of course, we couldn't kill the wasps, rather, Mark trapped one in a Ziploc bag, pinched the bag closed and handed the bag to me.  I took my flashlight in one hand, the Ziploc bag in the other, ran outside, opened the bag and waited for the wasp to come out.  I returned for the next wasp and did this 6 times.  That night I went to sleep worried that other wasps were still hiding behind the curtains.
The next morning I learned that Bobby was on his satellite phone talking to his wife when he saw me running back and forth with the wasp bags, and he was about to run over to tell me I had attracted the attention of a caiman when I stopped coming out for the last time.  He said the caiman was about 10 feet away from me.  I could see the article now:  "Caiman Snarfs Stay Puft Marshmallow Woman on the Amazon."